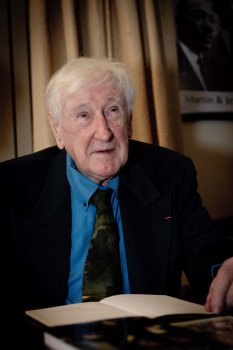 The poet John Montague revisited some of the landmarks of his long and illustrious literary life in the latest of the University of Ulster' ˜Life Stories' series of public talks at the Magee campus.
Now aged 82 and brimming with charm and memories, he told the capacity audience in the historic Great Hall that he is still labouring at his calling.
"What I am working on now is a series of prose poems about my childhood," he said, adding that he wondered whether he would see that period in a new light.
Interviewed by the series host, Professor Paul Moore, Head of the School of Creative Arts at Magee, Montague took the audience on a colourful odyssey of recollection, experience and learning, all of which have helped to shape his stature as one of Ireland's most respected poets.
Throughout the hour-long conversation, he captivated his willing listeners with a blend of anecdotes about literary life Dublin in the 1950s, reflections on the influences on his own writings and his thoughts about a childhood in which he exchanged life in Brooklyn for a farm upbringing in Co Tyrone.
Born in Brooklyn in 1929 to émigré parents, who sent him and two brothers to be raised in Ireland, he was raised by his father's two sisters on the family farm at Garvaghey.
He went to St Patrick's College, Armagh, University College, Dublin, Yale University and the University of California at Berkeley, USA.
In 1998, he became the first Ireland Professor of Poetry and in 2010, the French State honoured him as a Chevalier de la Legion d'Honneur.

The University of Ulster awarded him the honorary degree of Doctor of Letters (DLitt) in June 2009 for services to poetry. In 'Life Stories' distinguished honorary graduates of the University are invited to give their views on their lives and careers.
In Dublin, Montague shared the company of literary giants such as Austin Clarke, Sean O'Faolain, Brendan Behan, Flann O'Brien and, in Paris, Samuel Beckett.
Regarded as a pioneering voice among "the Northern poets", he struck a homely chord when he sang the praises of Derry poet, James Simmons, who was also a lecturer at the University of Ulster. He was "an engaging fellow."
Dr Montague recalled the only other occasion on which he had spoken in the Great Hall at Magee.
"I was introduced by Jimmy Simmons, whose grandfather had, I think, been a Mayor of Derry, and Jimmy, as you all know, was a scallywag and a rogue," he quipped. "And he tried to change the North of Ireland on his own.
"He wrote some very nice poems and a wonderful song called 'Claudy'. It's very hard to write a song about violence, but he did that, about Claudy."
When Professor Moore commented - "Jimmy Simmons taught me", Montague responded immediately: "Did he? Well, his ghost is here. Greetings!"