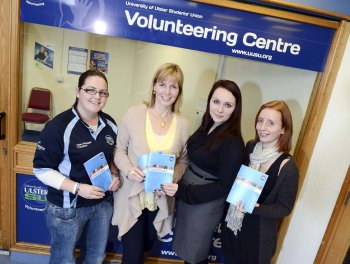 The University of Ulster Students' Union today officially launches its new online Volunteering Centre.
It has been developed to improve the volunteering services for students in each of the four campuses.
University of Ulster students can register as a volunteer and view opportunities available via the students' union website www.uusu.org. Volunteer organisations and projects are also able to register and promote their volunteering opportunities through the Volunteering Centre.
It is hoped that this service will enable students to gain experience, skills and knowledge for future employment whilst supporting volunteer organisations and projects.
Claire Flanagan, University of Ulster Students' Union Overall President said
"This is a fantastic new initiative from the University of Ulster Students' Union. The Volunteering Centre will enable students to register as volunteers and apply for volunteer opportunities to gain experience and add to their CV. In the current climate, we hope to help Ulster students stand out from the crowd and have the edge when applying for employment after they graduate".
Marketing student Stephanie Tares said: "Personally, I feel volunteering is one of the most skill enhancing activities a person can undertake, not only do you gain an insight into an organisation but you also get to experience firsthand what the world of work is like.
"When I graduate I'll be up against students who may have graduated before me and who will probably have some work experience under their belt. Having just under gone the difficult experience of finding a placement myself I'm aware of how tough the competition is and how much employers value some sort of work experience on a candidates CV.
"This in itself makes me appreciate my volunteer work even more as it made me more employable to the company that hired me for my placement year. Another excellent aspect of volunteering through the University of Ulster Students' Union Volunteering Centre is that now I can count it as an activity towards the EDGE Award and receive recognition for the work that I put in".
Margaret McClean, Development Officer, Northern Ireland Scouts Association said:
'We are delighted to be part of this exciting new venture and are looking forward to working in partnership with the UUSU Volunteering Centre.
"Within a week of being registered we had our first vounteer who has followed in the footsteps of Bear Grylls and has identified the benefits of becoming part of the UK's largest mixed youth movement."
CAPTION: L-R Claire Flanagan (Overall President, Students' Union), Sharon Milner (Employability Development Manager, University of Ulster), Stephanie Tares ( Edge Award Research Assistant) and Kirsty McMurray (Volunteering and Societies Co-ordinator, Students' Union).
ENDS
For further information about the University of Ulster Students' Union Volunteering Centre, getting involved as student volunteer or promoting a volunteer opportunity, please contact the Volunteering and Societies Coordinator: k.mcmurray@uusu.org or check out: http://www.uusu.org/content/737633/
Further Information please contact: Karen McKillop, Marketing Manager Tel: 028 90 366062 karen@uusu.org