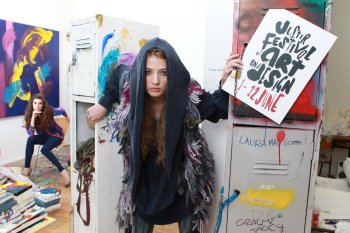 From art to architecture and fashion to photography this year's Ulster Festival of Art and Design promises a packed calendar of talks, workshops, exhibitions and performances from local and international talent.
Running from June 1 until June 12 the Festival, organised annually by the University of Ulster, is the only one of its kind in Ireland. Based at Ulster's Belfast campus in York Street it covers a broad spectrum of the art and design world, from the glamour of fashion to the latest in gaming technology.
Professor Richard Barnett, the University's Vice-Chancellor said: "From its inception four years ago the Festival has blossomed into an exciting and well respected programme of exceptional quality.
"It attracts artists and designers from around the world and is an ideal way to highlight the excellence in innovation and creativity that we enjoy and value at Ulster."
This year's line-up boasts a host of top notch visitors such as Phil Campbell, game creator and designer whose credits include Heavy Rain, Tomb Raider and Thor.
Also visiting is Karen Nicol, one of the world's most renowned embroidery and mixed media textile artists. Her 'A' list clients include Givenchy, Clements Ribeiro and Chanel.
Russell Mills, who designed album covers for amongst others Brian Eno, Bob Marley and Miles Davis, will be talking about his work as a designer, musician and artist.
The Festival also hosts the students' End of Year Show, the annual large-scale exhibition which is a showcase for today's emerging talent and an ideal opportunity for visitors to buy work from young up and coming stars.
And the Ulster Fashion Show is another favourite, featuring garments created by final year students for their spectacular catwalk extravaganza.
The Festival has joined forces with local band And So I Watch You From Afar and video artist Seamus Harahan to produce a unique advertising campaign – keep your ears and eyes peeled for this specially commissioned work.
Tim Kerr the Festival Director said: "This year's Festival has a great mix of events featuring artists and designers who are at the top in their field.
"I think we are all becoming much more conscious and concerned about the world around us – how our streets look, what we wear, how we communicate – these are all products of design and they are a growing part of our everyday living and lifestyle.
"The Festival gives us the chance to hear and meet some of the biggest names in art and design, the freshest and most dynamic new thinkers in our design-conscious world."
Michael Johnston, Managing Partner at Carson McDowell, the Festival's principal sponsor said: "We are delighted to sponsor the 2011 Ulster Festival of Art and Design as part of our ongoing commitment to supporting the arts, education and the community.
"We believe that the arts help to define and enrich communities. The University's Belfast campus is a hub of creativity and we are pleased to support the innovation and excellence which has become its hallmark.
"We are keen to acknowledge the valuable financial contribution to our economy made by the art and design students."
To access the full Festival programme and to book events, visit www.ulsterfestival.com/2011.
The Festival is also supported by Belfast City Council, the Northern Ireland Tourist Board and the Department for Social Development.