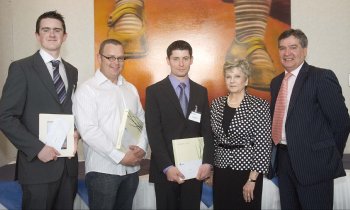 Celtic studies scholars Conal McShane and Patrick Tierney, along with ceramics artist Andrew Cooke are the 2011 winners of the Richard K Degenhardt Belleek Collectors' Scholarships.
The awards, now in their tenth year, are named in memory of the late Richard Kennedy Degenhardt, who was instrumental in establishing the Belleek Collectors' International Society.
The prizes are given annually to two or three outstanding students from the University of Ulster, at either undergraduate or graduate level, who are studying in the fields of ceramics or Celtic studies.
Dr Linda Beard, founder and chair of the Richard K Degenhardt Endowment, presented this year's successful students with their £500 awards at a special ceremony in Ulster's Coleraine campus on Friday.
Dr Beard has been instrumental in helping the University of Ulster to develop its profile in the US and has been recognised for her work by being awarded an Honorary DUniv in 2007.
Over its first ten years, the Scholarships have so far helped 24 students in ceramics and Celtic studies.
"The success of the students is due primarily to the outstanding educational experiences that they receive at the University of Ulster, and, in some small part to the Scholarships that helped them along the way," said Mrs Beard.
"The Scholarships are important in that they allow us to give a bit of ourselves in order to help others who are at a critical stage in their university life, and are preparing for their future careers – a chance for us to make a difference, and a source of encouragement to students at a crucial point in their careers."
During Friday's award ceremony, Ulster's Vice-Chancellor Professor Richard Barnett presented Dr Beard with an engraved Belleek Cherokee Rose Basket Plate, to mark the tenth anniversary of the Scholarships.
The Vice-Chancellor, Professor Richard Barnett, said: This year, we celebrate the 10th anniversary of the Richard K Degenhardt Belleek Collectors' Scholarship.
"This has all been made possible through the foresight, enthusiasm and commitment of Linda Beard, who has worked unceasingly to build up the Scholarship fund to a level that secures the long-term future of this excellent initiative.
"I am delighted to welcome Dr Beard to this presentation ceremony for this year's award, and we thank her for her support over the years."
The Richard K Degenhardt Belleek Collectors' Scholarships were set up to enhance students' opportunities for personal as well as educational development and each winner uses their award to fund a project specific to their skills.
Andrew Cook, from Dundonald, is a second year, mature undergraduate student studying for a BA Fine and Applied Art at the Belfast campus.
He is particularly interested in wood firing, a specialist skill which can't be carried out within the confines of a city centre university.
His award is helping to finance a two-week-long wood firing course in County Waterford beginning on June 4, which will conclude his second year studies.
Conal McShane from Letterkenny is a final year student studying for a BA (Hons) in Irish Language and Literature at the Magee campus.
For his undergraduate thesis he researched a unique, 1853, post-famine manuscript, made up of six sermons written by the then Parish Priest of Gort an Choirce in west Donegal.
The document is held in the Department of Irish Folklore at University College Dublin and Conal will be using his award to build upon his work by editing and analysing another section of text.
This will be added to the existing body of knowledge about the religious sensibilities and Irish language of the post-famine era in west Donegal.
Patrick Tierney, from Newry, is a First Class Honours student of Irish with Media Studies and is currently a full-time postgraduate student, registered for a Master of Research.
He is using his award to spend an extended period of time working with archival material in University College Dublin to study the field diaries of Sean O'hEochaidh between 1935 and 1948.
Patrick will also investigate the methods of folklore collection and the response of local people from Co Donegal's Gaeltacht area of Teelin to the work of the Irish Folklore Commission from 1935 until 1970.
The Richard Kennedy Degenhardt Belleek Collectors' Scholarship Endowment Fund has received over £70,000 in contributions since it was established in May 2001.
This has provided 24 outstanding Ulster students (11 Celtic studies awards and 13 ceramics awards) with the opportunity to expand their knowledge and undertake research they may not have otherwise been able to carry out.
Scholarships are funded through the generosity of many individuals and groups, including Belleek Collectors worldwide, international Belleek Chapters, special friends and family of Richard K Degenhardt, the Belleek Pottery and the Belleek Collectors' International Society.

As well as being named in memory of the late Richard K Degenhardt, the awards are a tribute to his definitive knowledge of Belleek Parian China, which remains renowned among collectors worldwide.