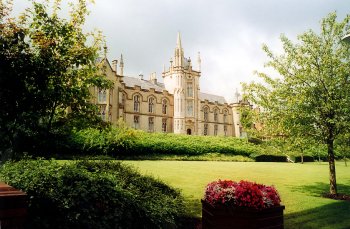 A digital arts festival with a difference promising entertainment and enlightenment takes place at venues throughout the north-west next week. Organised by the University of Ulster, Imagine Create 2011 runs from March 29 to April 2 and brings together an international line-up of talents and minds from the worlds of art, design, new media and software development.
Festival Director Greg O'Hanlon, who is a Creative Technologies lecturer and technologist in the School of Creative Arts at Magee, says Imagine Create will be one of the 'stand out' cultural events in 2011.
"We're building on the success of the inaugural Imagine Create event in 2009 with an intensive five day schedule of inspirational presentations, demonstrations, workshops, panels, exhibits and performances delivered by the people and tools transforming digital culture."
He contines: "The festival is all about providing present and future professional creatives from across Northern Ireland the chance to hear, see and mix with internationally renowned experts as well as those from the local and regional creative and cultural industries.
"The festival will showcase some of the exciting work being done by local creatives and show how the creative industries can be a viable career option for students and young people."
Imagine Create is part of DCAL's Creativity Month and, according to Greg, it will help highlight how art and technology can no longer be thought of as distinct areas.
"With the merging of on- and offline, the increasing availability of powerful data processing frameworks and sensor technology, the need for new and innovative ideas is more important than ever. "
This year's event will include a core series of talks and workshops alongside ongoing exhibitions and showcases at venues throughout the city. Key speakers include Evan Grant – (Seeper), Richard Jobson, Alex Beim (Tangible Interaction), The Icebook - Davy & Kristin Maguire, Jeff Burke, Mary Anne Hobbs, Phil Kieran, Anthony Lilley, Andrew Ferris (Smalltown America), Bridget McKenzie and Paul Moore (Acroplane) and is an event certain to entertain, develop and expand your knowledge of digital arts and find out what changes are happening in 2011 and beyond.
The festival is free to attend with the exception of the closing show in St Columb's Hall. Seating is limited however so early booking is advised.
Imagine Create is a partner event organised by the University of Ulster in association with Digital Derry, DCAL, Derry City Council, Ilex, Invest Northern Ireland, NWRC, Skillset Media Academy, Foyle Film Festival, Nerve Centre, Celtronic, Momentum, Digital Circle, Verbal Arts Centre, Void and The Playhouse.
For further information please visit the festival website http://www.imaginecreate.info