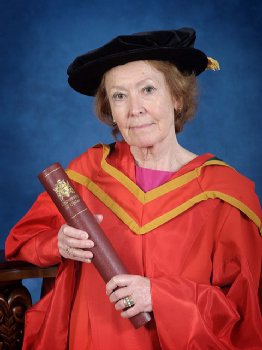 Portstewart judge Teresa Doherty, who has carved out a successful career as an international human rights lawyer, is to receive the degree of Doctor of Laws for services to the promotion of human rights and humanitarian law.
Justice Doherty's legal career at home and abroad has spanned over thirty years. She is currently the Presiding Judge in Trial Chamber11 of the Special Court for Sierra Leone and is regarded as a leading figure in international human rights law.
She began practicing law in Northern Ireland in the early 1970s before pursuing her career in Papua New Guinea. In 1987 she was appointed as a Principal Magistrate there and the following year, as a judge in the Supreme and National Courts - the first woman to hold high judicial office in the South Pacific.
Between 1998 and 2003, Justice Doherty worked in private law practice in Northern Ireland and she has served as a Life Sentence Review and Parole Commissioner here since 2002.
From 2003 to 2005, Justice Doherty served as a Judge of the High Court and the Court of Appeal of Sierra Leone at the request of the Commonwealth following the civil war there. In 2005, she was appointed by the UN Secretary General to the Special Court for Sierra Leone, the tribunal dealing with crimes against humanity and war crimes. She has worked and lectured on legal issues in many countries in Asia, Africa, N. and S. America, Australasia and Europe. Justice Doherty has received several awards for her work including a CBE in 1997.