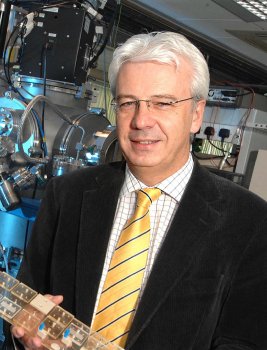 An international initiative headed by a University of Ulster physicist has been grappling this week with how to turn healthcare technology advances into practical ways of helping patients and saving on scarce resources.
More than 100 delegates have been attending a major three day event in Brussels which has been organised by the European Connected Health Campus (ECHCampus), a not for profit company headquartered in Belfast.
ECHCampus and European Mobile Health Alliance have linked up to run both the ECH Leadership Summit 2011 and the EuMHA MHealth Symposium 2011 as the core part of E-Health Week in the Belgian capital.
Professor Jim McLaughlin of the University of Ulster is Chair of ECHCampus, which links technology and healthcare to improve patient treatments and ease pressure on resources.
Connected Health is a rapidly evolving research and development sector spanning specialisms such as healthcare, medical devices, engineering technology, academia and industry.
The Summit has been providing an innovative and comprehensive programme that examines how to drive innovation, remove barriers and clarifies the critical role that MHealth has in helping the EU Digital Agenda.
The event is exploring openings and obstacles in the Connected Health and MHealth arena, showcasing examples of best practice in deployment of remote healthcare monitoring and facilitating transfer of knowledge and experience.
Experts say healthcare systems worldwide are being confronted with huge challenges to cut costs while improving care delivery. At the same time, people are living longer - a trend which is set to continue - and the incidence of chronic disease continues to rise , all of which entails a corresponding care requirement.
Healthcare industry analysts says these new challenges are being met by constantly seeking new innovative perspectives, incorporating new technology and adapting new efficiencies to provide better service delivery.
Product progression and remote monitoring technologies lie at the heart of the solution, they emphasise.
Professor McLaughlin says: "We realise that there needs to be a seismic shift in the way services are currently accessed and delivered. Through a series of keynote addresses and panel sessions we have been investigating how to turn the rhetoric into a reality. "
Caption:Research physicist Professor Jim McLaughlin, chairman of the European Connected Health Campus (ECHCampus). He is Director of the School of Engineering's Nanotechnology and Advanced Materials Institute and the Nanotechnology and Integrated Bioengineering Centre (NIBEC) at Jordanstown.