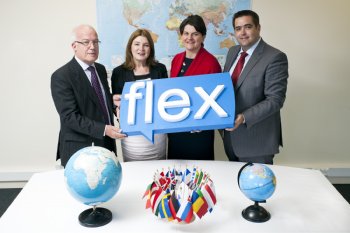 University of Ulster spin out company, Flex Language Services has been sold to Belfast based business development agency, Ortus.
The move, the first of its kind in Northern Ireland, sees the acquisition of a University spin out company by one of Northern Ireland's leading social enterprises.
Flex Language Services was formed over 20 years ago as the University of Ulster's 'Foreign Languages for Export Service', playing a prominent role in helping local industry, commerce, public bodies and individuals to meet the demands of an ever expanding multi-lingual market.
The company caters for up to sixty languages and has 250 interpreters on its books. Key clients include the Department of Education, Ministry of Justice, Health and Social Care Procurement Department, Industrial Tribunals Court, private sector industries and individuals.
Tim Brundle, Director of Innovation at the University said: "Innovation Ulster is delighted to have sold Flex Language Services to Ortus, who we are confident have the right team to build the company into an internationally-competitive and locally-important enterprise. It highlights the University's ability to create and manage incubator businesses which can eventually be sold as highly sought after spin-out companies."
Enterprise Minister Arlene Foster, who was present at the launch, said: "Ortus is an ambitious and forward thinking organisation and this acquisition is a positive example of their commitment to developing local enterprises.
"In an increasingly competitive environment, it is vital we continue to support and encourage new and existing companies to boost their capability and competitiveness.
"This translation service will be a vital resource to help small businesses maximise their export potential and contribute to the growth of the local economy."
Ortus General Manager, Seamus O'Prey said "The acquisition of Flex Language Services signifies our commitment to facilitating the growth needed in the SME sector in Northern Ireland through the provision of channels into export for our existing and future clients. The services offered by Flex are also extremely important locally, offering translation and interpreting services to foreign nationals who contribute so much to the Northern Ireland economy."
ENDS
Enterprise Minister Arlene Foster celebrates the acquisition of Flex Language Services by Ortus – The Business Development Agency with (from left to right) Jim Collins, Chairman at Ortus, Professor Jackie McCoy from the University of Ulster and Seamus O'Prey, General Manager at Ortus.