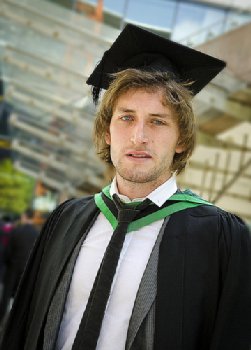 Brendan Connor who graduates from the University of Ulster today has had an exciting final year of study - as part of the back room team behind the Ireland cricket squad.

The West Belfast man was the strength and conditioning coach for the Irish team on their rollercoaster 2011 ICC Cricket World Cup from February to April.

He today picks up a BSc Sport and Exercise Sciences degree having achieved a 2.1 in what has been a hectic year.

As part of the entourage on the World Cup tour, Brendan spent seven and a half weeks as part of the green entourage in India, Sri Lanka and Bangladesh.

"The World Cup was really a highlight of my four years at University and beating England was definitely a highlight of the World Cup," said Brendan.

Ireland defeated their rivals by three wickets in a record-breaking game that saw the team achieve the highest successful run chase ever in the competition and Kevin O'Brien notching up the fastest ever World Cup century.

The University work was never far from Brendan's mind however as each evening he spent time studying in his hotel room.

A former pupil of St Mary's CBGS on west Belfast's Glen Road, Brendan now has a full-time job as the Ireland cricket team's strength and conditioning coach.

He said: "When I was studying and on placement at the Performance Services Unit in the University, I was working with University teams including the Ulster Elks hockey and basketball, the GAA clubs and some athletics. I also worked with Belfast Royal Academy rugby side.

"I was also working part-time with Ireland and now that I have got the job with Cricket Ireland it is going really well and I am just getting the head down and working hard to help the squads."