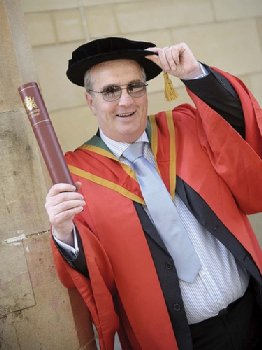 Richard Moore was just ten years old and on his way home from school in Derry when he was shot in the face and blinded by a rubber bullet. But he has never used his blindness as an excuse for not getting on with his life. A man of many talents, Richard had enjoyed success as businessman, writer, musician, recording artist and, radio presenter and most recently as the founder and chief executive of the international humanitarian organisation, Children in Crossfire. He received the degree of Doctor of Laws in recognition of his services to reconciliation and children's rights.
When His Holiness the Dalai Lama, also an honorary graduate of Ulster, and who is a patron of Children in Crossfire, visited Derry to mark the 10th anniversary of the charity, he described Richard as his hero and friend, saying 'I preach forgiveness. Richard lives it'.
An inspirational champion of reconciliation and children's rights, Richard did not succumb to bitterness but used his blindness to look at life differently. While building up Children in Crossfire, he embarked on a personal odyssey to find out more about the soldier who fired the rubber bullet, which blinded him so he could meet him, and personally forgive him. Their meeting and subsequent friendship with the soldier and how they travelled to India together last year to meet the Dalai Lama has been well documented.
Children in Crossfire works in collaboration with local organisations in Ethiopia, Gambia and Tanzania to protect and promote the rights of vulnerable children and to identify sustainable development opportunities. It has also adopted a strong advocacy role in these countries, lobbying policy makers, health and educational professionals who are working to create a better future for the local community. www.childrenincrossfire.org