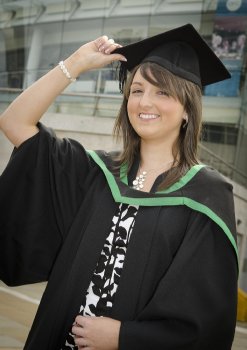 A University of Ulster marketing student impressed her placement employers so much that she landed a job with the leading hotel chain even before her graduation ceremony.
Shauna Mullan from Carrickmore, outside Omagh, is now working in the Everglades Hotel, Londonderry, which is owned by the Hastings Hotels group.
And she's delighted to be working full time so soon after leaving university especially when so many people are struggling to find employment.
"I was on placement in the Europa Hotel which is also owned by Hastings, my job title was Events Assistant so I was organising big functions like weddings and conferences. The responsibility that I was given helped me gain very valuable experience in the hotel and tourism industry."
A few months ago Shauna was invited to apply for a position at the Everglades as Events Co-Ordinator.
"I was thrilled when I got the job and I feel very fortunate to be given this opportunity. The placement was invaluable in terms of gaining employment," she said.
"I loved the marketing degree, the modules were really interesting and lecturers were helpful and easy to talk to. The course entailed a lot of group work, which enabled me to meet some really great people and some new friends."
Shauna will pick up a First Class BSc Hons Marketing degree at the University's graduation ceremony in the Waterfront Hall in July.
Course Director, Dr Mary Boyd, said not only did Shauna shine academically, which is reflected in achieving the Best Overall Marketing final year student, she was also integral in helping to set up Ulster's first 'Marketing Society'.
The society encouraged students to organise events and fundraise for charities.
Dr Boyd added: "Shauna is an outstanding student who has fully embraced the ethos of the programme both academically and socially. She is an exemplar of what it is to be a Marketing graduate, intellectually competent and vocationally prepared to build and develop a professional career in a specialist field.
"She has the unique skills, attributes and abilities that make her a valuable asset to her employer. I wish Shauna all the very best in everything she does."