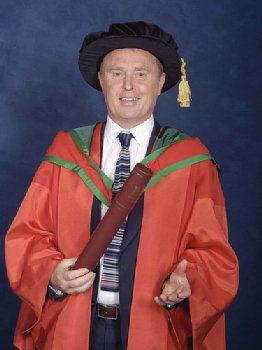 Bill Wolsey heads up Beannchor, one of Ireland's largest groups of licensed premises which includes the 5-star Merchant Hotel in the Cathedral Quarter of Belfast's city centre. He is to receive the degree of Doctor of Science for services to entrepreneurship and business development.
Born in the Ballysillan area of North Belfast, Bill studied catering management and learnt his trade in the hospitality industry in a variety of jobs in London. He returned to Northern Ireland and invested his savings in revitalising The Trident Inn in Bangor – the project which gave his company Beannchor – the Irish word for Bangor – its name.
He initially concentrated on buying pubs in the Co Down town and then switched his focus to Belfast where his next foray into the hospitality business was opening of the TaTu Bar on the Lisburn Road. Following on its success, he acquired the Franklin's Gate bar complex in Belfast city centre when it went into receivership, transforming it into a bar, restaurant and nightclub.
In 2006, he spotted a gap in the market for a luxury city centre hotel and purchased the former headquarters of the Ulster Bank in Waring Street which was transformed into the luxury Merchant Hotel. He has also recently opened the Little Wing chain of pizzerias in the city and has plans for another city centre hotel in Belfast.
Bill Wolsey's first love was football and as a teenager, he was an apprentice player with Arsenal FC.