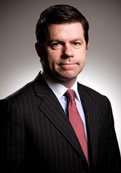 US Economic Envoy to Northern Ireland Declan Kelly will visit the University of Ulster's Jordanstown campus on Monday 24 January to deliver a talk to business students. Envoy Kelly's Assembly Hall lecture is titled 'Entrepreneurship, Innovation and Leadership: Shaping Northern Ireland's Future'.
Mr Kelly was born in Portroe, County Tipperary, and advised US Secretary of State Hillary Clinton during her campaign for the presidency.
He is a former vice-president of FTI, a global business consultancy.
ENDS