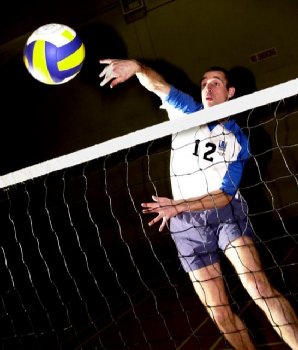 The inaugural Volleyball Celtic Cup is coming to Northern Ireland as the University of Ulster announces that it is hosting the tournament in May.
The top men's and women's teams from Northern Ireland and Scotland will fight it out on finals' day on 22 May at Ulster's Jordanstown campus, in a clash organised in partnership with the Northern Ireland Volleyball Association and the Scottish Volleyball Association.
Nick Wright, from NI Volleyball Association, said: "A play-off between the top four club teams in the Northern Ireland's 7 Financial National League, which got under way this week, will decide on the best NI team to compete against the winner of the play-off from the Scottish Schelde Sports National League."
In the men's section, University of Ulster Jordanstown, North Down, Craigavon Aztecs Eagles, Ballymoney Blaze, Lisburn Lynx and Richhill Raiders from Co Armagh will go head-to-head for the honour of representing Northern Ireland against the Scots.
The women's section will also feature University of Ulster Jordanstown, Craigavon Aztecs Eagles and North Down, alongside the Lisnaskea Spikers and QUB.
The play-off rounds are due to take place in March and April ahead of the showpiece event at the end of May.
Margaret Ann Fleming, the Chief Executive Officer of Scottish Volleyball said: "We in Scottish Volleyball are absolutely delighted to be involved in the beginning of such a innovative and exciting venture as the Celtic Cup. Our clubs now have something new to strive towards and helps Scottish Volleyball achieve it's post Olympic aim to be bigger, better and stronger."
NI Volleyball Association Vice President Patrick Murphy, said: "I welcome our Scottish friends and this inaugural club competition. I thank all who are supporting this event, which I know, will be richly entertaining volleyball and great craic off court as well. This competition is a start which can only go from strength to strength with the boost of the Olympics next year in London."
In Northern Ireland teams will be seeded from the finishing position in the National League. The first round of the play-offs will feature 1st vs 4th and 2nd vs 3rd teams, with the higher seed gaining home court advantage throughout the play-offs.
The setup in Scotland is similar, with the teams playing over a best-of-three series. The higher-ranked team will have home court advantage in the first, and, if necessary, the deciding fixtures.
The Celtic Cup final will take place on Sunday the 22nd May 2011 at the University of Ulster at Jordanstown.
For more information on the Celtic Cup and National League, visit Northern Ireland Volleyball at www.nivb.com.