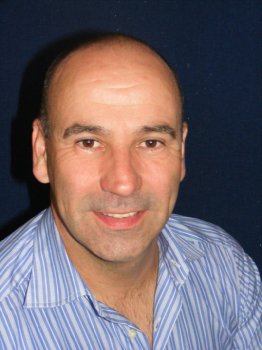 The benefits and importance of work experience will be showcased at all four campuses during University of Ulster's annual Work Experience Week,which runs from February 21 – 25.
Seamus McConomy (pictured), Ulster's Work Experience Development Officer says the positive impact of work experience on students' employment prospects is well documented and the idea behind Work Experience Week is to encourage students to take full advantage of workplace opportunities.
According to an annual review of graduate vacancies and starting salaries at Britain's leading employers (The Graduate Market in 2011), two-thirds of recruiters warn that graduates without any previous work experience are unlikely to be successful. Research at Ulster finds that work placement, on average, results in a higher degree classification.
Seamus says: "The Career Development Centre provides a university-wide resource for the promotion, support, and enhancement of work placements and work experience. Work Experience Week, which is sponsored by Translink, is an opportunity for us to showcase all opportunities through which students build their employability - these include full-time, vacation, voluntary, short-term and part-time employment.
He continues: "A full programme of events and activities across all campuses is being organised to put our students in contact with potential placement providers and to support personal and professional development. Among the events planned are presentations and workshops for student engagement with voluntary work, vacation work and cultural exchange activities. Students will also get a chance to speak to representatives from SMEs and social enterprises to discuss new models of part time and short time work experience.
"There are also many opportunities for industrial or professional practice placements or for curriculum linked study placements abroad."
Vicky Lowey, who is doing a degree in Transportation with Specialisms, is midway through a year long placement with Translink's Marketing Department. She says she would thoroughly recommend a placement year to other students.
"Everyday in the marketing department is different and I have learnt so much. Being the student placement you have to be keen and willing to help out on all projects but it's great being involved with the marketing team. Where possible, I am given my own areas of responsibility and this gives me a real sense of ownership on a project. I have had a fantastic time so far. I am a lot more confident, I have learnt so much and without doubt, this will help with my chosen career."
The Work Experience Week co-incides with National Student Employment Week, which is an annual initiative when student employment services from across the UK host events to help bring students and employers together.
This year has been designated European Year for Volunteering and 2011 also marks the 10th anniversary of the International Year of Volunteers. According to Seamus, national initiatives like Student Volunteering Week (SVW) give organisations the opportunity to promote volunteering but also to recognise the contributions already made by students across Northern Ireland to the lives of individuals, their community or the environment.
He explains how the University of Ulster engages with student volunteers in a variety of ways across all campuses.
"A leading example of how students within the University can engage in volunteering is through the work of the Ulster Sports Outreach (USO) Unit. Based in the School of Sports Studies and led by professionals in the area of physical education and sports development, USO facilitates public engagement with a variety of internal and external partners.
"The focus is to improve the employability of student volunteers and, at the same time, provide sport and physical activity programmes to children and young people."
Last year, 150 School of Sport Studies students volunteered with the Outreach Unit, which in turn used their services to co-ordinate activities in 135 schools, reaching out to 9, 800 primary and secondary pupils.
Richard Gormley, Ulster Sports Outreach Unit Manager said while he really valued the support of students who volunteered, the relationship was mutually beneficial.
'We aim to provide quality volunteering opportunities for our students to ensure they gain essential professional skills and hands on experience in the workplace. Our students are our richest resource. The students who volunteer on our programmes are a fantastic example to others and should be congratulated on the efforts and dedication shown."
'We Volunteer'! - an exhibition of Student Volunteering in Ireland to mark the European Year of Volunteering 2011 and recognise the tremendous contribution which student volunteers make to the lives of communities - will be on display along the Mall on the Jordanstown campus during Work Experience Week. The exhibition showcases the work of students from twenty Higher Education Institutions across Ireland with diverse organisations ranging from the Christina Noble Foundation in Vietnam, to Chrysalis Community Drug Project in Dublin, to the sport and physical activity, coaching undertaken by Carol Duffy via the Ulster Sports Outreach Unit.
Full information on Work Placement Week events can be found at: http://careers.ulster.ac.uk/WEweek
Ends