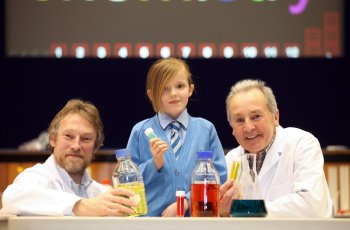 Almost 500 Primary 7 school pupils from Greater Belfast attended Flash! Bang! Wallop! a fun lecture recently hosted as as part of the Step-Up programme Engaging Young Minds.
The interactive lecture was delivered by Professor Peter Edwards and Mr. Peter Hollamby from the School of Chemistry at Cardiff University. Pupils were treated to a variety of colourful and impressive demonstrations which showed that science can be interesting and stimulating.
Engaging Young Minds is an innovative programme of interactive lessons, games, competitions and experiments, delivered by the Department of Access and Educational Partnership, which is supported by funding from the University's Access Agreement and the Department for Employment and Learning.
Dr. Damian O Kane, Director of the Step-Up programme, said:
"The Engaging Young Minds programmes give pupils the opportunity to be actively involved in STEM subjects from early in their academic career. It is critically important for the future development and prosperity at Northern Ireland that we engage with all our young people, at the earliest stage, in STEM related activities."
Mr. John Hunter from St. Michael's Primary School, Belfast said:
"The Step-Up lecture was an informative, engaging and entertaining learning experience for St. Michael's Primary 7 pupils. We are delighted to be involved in the Engaging Young Minds programme and look forward to taking part in future activities."
CAPTION: Professor Peter Edwards (left) and Peter Hollamby with Star of the Sea Primary School pupil Jennifer McTasney.