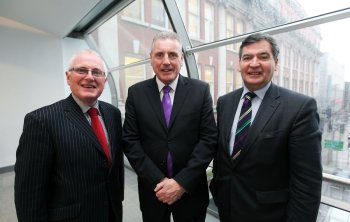 Shadow Secretary of State for Northern Ireland Vernon Coaker MP has visited the Academy Restaurant at the Belfast campus, where he experienced at first hand the work of the Ulster Business School's Department of Hospitality and Tourism.
The brief lunch-time visit was hosted by the Vice-Chancellor and Professor Adair, Provost of the Belfast campus.
The visit enabled Mr Coaker to learn about the University's work in widening access and support for the economy through the focus in Teaching and Learning on employability and skills and in Research and Innovation on knowledge generation and technology transfer.
Mr Coaker, MP for Gedling (Nottingham) since 1997, was appointed Shadow Secretary of State in October 2011.
He has political interests in the environment, education, welfare reform, foreign policy and sport, and in relation to Northern Ireland has expressed a particular interest in economic development. In this respect he was especially interested in the University's development plans for the North West and Greater Belfast campuses.
Mr Coaker thanked the Vice-Chancellor for the excellent work being undertaken by the University in reaching out through widening access to those who traditionally have not accessed university education, and looked forward to the development of the new Belfast campus over the next decade.
Caption: Professor Alastair Adair and the Vice-Chancellor, Professor Richard Barnett meet Vernon Coaker, centre, at the Belfast campus