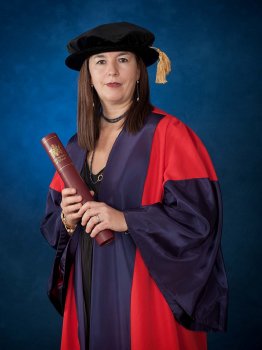 In 2005, Dr Folli joined Ulster as a lecturer and in 2010 was promoted to Senior Lecturer, primarily on the basis of her research achievements in the field of theoretical linguistics.
Since then, she has been to the fore in the development of her field contributing to a highly successful Research Assessment Exercise (RAE) submission in 2008, where Ulster's linguistics was rated above Oxford and just below Cambridge. In 2009, she was appointed Unit of Assessment Co-ordinator.

Her research record includes 28 published outputs and several currently forthcoming. She recently edited a book for Oxford University Press (OUP) entitled, Interfaces in Linguistics and has just signed a second contract with OUP for a book entitled, The Architecture of Linguistic Knowledge: The Limits of Syntax.

Dr Folli has been successful in guiding students to completion of PhD and MSc theses and has secured external grants of over £90,000. She has also played a pivotal role in establishing collaborations with international centres of excellence in linguistics research throughout the world. Her standing in linguistics is evidenced by membership on editorial and conference boards and the many invitations to conferences and workshops as a keynote speaker.

Dr Folli's work on linguistics interfaces has led to the establishment of a conference series named, On Linguistic Interfaces (OnLI) placing linguistics research at Ulster at the forefront of international research.