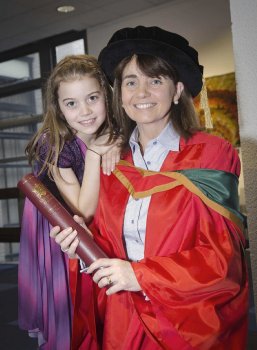 Dr Deirdre Brennan is a senior lecturer in the Ulster Sports Academy and Director of Ulster Sports Outreach. She is a Fellow of the Higher Education Academy, Associate Fellow of the Centre for Higher Education Practice, and was recently appointed a UK public engagement ambassador by the National Co-ordinating Centre for Public Engagement.

In 2000, Dr Brennan founded Ulster Sports Outreach (USO) – a programme that widens access to sport and physical activity to young people in disadvantaged communities throughout Northern Ireland. USO received a boost in 2009 when it obtained substantial funding from The Coca-Cola Foundation for a major school physical activity and health intervention, Sport for LIFE. This is now recognised by the World Health Organisation as best practice in promoting physical activity to marginalised groups.

USO, Sport for LIFE and a Sport for LIFE Legacy programme have all received Inspire awards from the London Organising Committee of the Olympic and Paralympic Games (LOCOG) 2012.

Dr Brennan designed the University Elite Athlete Entry Scheme, which allows a reduced tariff for applicants to courses who have proven outstanding sporting ability. She was also behind the International Sports Scholarships Scheme, which brings major sports talent from the United States of America to Ulster and supports the University's vision to be the 'leading university in Ireland for sport'.
CAPTION: Dr Deirdre Brennan with daughter Erin