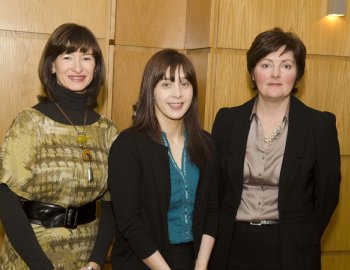 A University of Ulster graduate has won a major award after coming first in the Chartered Accountancy exams in Northern Ireland this year.
Colette Gribben, from Armagh, received the Northern Bank Prize for the highest placed candidate in Northern Ireland in this year's Final Admitting Examination of Chartered Accountants Ireland. The Ulster graduate was also placed fifth in Ireland out of a total of 1,142 candidates who took the exam in September 2011.
Colette initially trained to be a primary school teacher and taught for two years before completing the one year fast track Graduate Diploma in Accounting at the University's Ulster Business School in 2009.
"I worked as a substitute teacher for a couple of years, but it was difficult to get a full time job so I decided to go back to University," said Colette.
"I always did well in Accountancy A Level and enjoyed it, so I went for the Graduate Diploma at the University of Ulster.
"Every October PwC recruit new graduates and I was fortunate enough to be offered a training contract while I was still on the course and I haven't looked back since.
"At PwC there is a clear career path, we are assessed every summer and considered for promotion every two years. I was recently promoted to Senior Associate in Assurance, so I'm pleased with how things are going. Passing the exams will help me to further my career as a professional Accountant.
"I was delighted to win the Award but really shocked to come first in Northern Ireland! Accountancy has given me a good career and unlike many other professions there are still jobs available, so it has definitely been a good move for me."
Dr Gillian Armstrong, Head of the Accounting Department at Ulster, congratulated Colette on her exceptional achievement.
"We are delighted to see this result for Colette and know she has worked hard to pursue her change of career and utilise her academic and professional training in a short space of time – on behalf of the staff here we wish her well in her career ahead."
Alan Wilson, Course Director of the Graduate Diploma in Accounting at Ulster, added: "This is an excellent example of someone who has availed of the unique opportunity afforded by the Graduate Diploma to change career paths, from a non-relevant degree to a fast track career in Accounting."
Caption (l-r): University of Ulster lecturer, Helen Fee, prize winner Colette Gribben, PwC and Head of the Accounting Department at Ulster, Dr Gillian Armstrong.