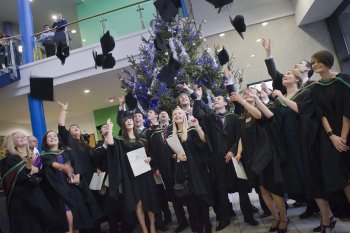 More than 95 per cent of University of Ulster students graduating today with an MSc in Advanced Accounting have gained employment.
Twenty-three out of a class of 24 have secured training contracts with Chartered Accountancy firms in Ireland.
And more good news for graduates this year, as the latest recruitment projections from the biggest chartered accountancy practices in Ireland show figures returning to pre-recession levels.
This year's recruitment target for the 'Big 4' accountancy firms – KPMG, PwC, Deloitte and Ernst & Young – are showing a 36 per cent year-on-year increase, according to Chartered Accountants Ireland (CAI), the largest accountancy body in Ireland.
Helen Fee, Course Director of the MSc Advanced Accounting programme, said: "All of these students are already high achievers at undergraduate level. Now that they have completed this intensive postgraduate programme, they are one step closer to becoming qualified Chartered Accountants.
"I am delighted that, given the current economic climate, so many of the students graduating today from this programme have secured training contracts with firms in Ireland.
"This programme is highly regarded by employers and all of the 'Big 4' firms frequently sponsor students on this programme and subsequently provide them with training contracts.
"These graduates are the accountants and decision makers of the future and I wish them every success."
One of the graduates, Trudy Reid from Belfast, also picked up the 'top student in examinations' prize from the CAI Ulster Society.
Trudy began a three-year chartered accountancy training contract with Ernst & Young, Belfast, in September 2011.
Trudy said: "Although a challenge, I found the MSc to be a great learning experience which better prepared me for commencing my training contract. The route suited me and I would encourage everyone who is hoping to train with Chartered Accountants Ireland to consider this option."
Partner at Ernst & Young, Keith Jess, said: "Ernst & Young is delighted with the success of its students who have completed this Masters programme at the University of Ulster at Jordanstown.
"Over the years, this course has provided our firm with a succession of exceptionally bright and highly motivated trainee Chartered Accountants, many of whom have gone on to have successful careers in Ernst & Young. Trudy Reid, who started with us in September 2011, is no exception."
Another prizewinner, Charlie Vernon, who plays Gaelic football for Armagh, received an award for Best 2009/10 Masters Dissertation from CAI Accountants Ireland today.
Charlie graduated last year and began a three-year Chartered Accountancy training contract with KPMG, Belfast, in September 2010.
Five of the students graduating today commenced training contracts with KPMG in September this year and five more students currently completing the programme will start with the firm in September 2012.
Caption: MSc Advanced Accounting graduates celebrate employment success at the University of Ulster's graduation ceremony today.
Caption 2: Course Director Helen Fee (middle) with prizewinners Trudy Reid (left) and Charlie Vernon (right).