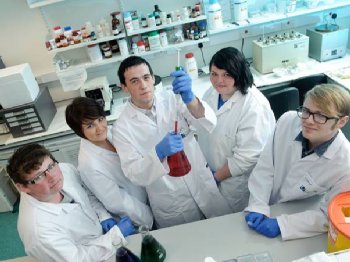 Five local students from the University of Ulster's innovative Step-Up programme who secured highly prized Nuffield STEM Bursaries had an opportunity to work closely with leading research scientists from the Centre for Molecular Biosciences at Ulster's Coleraine campus this summer.
During their five week placement, Georgia McClintock (Lisneal College), Conor Irwin and Liam Roberts (St Brigid's College) carried out investigations into the Alzheimer's disease with the Neuroscience and Neurodegeneration Research group while Sara Butler (St Brigid's College) and Daniel Ryan (St Joseph's Boys' School) secured placements with the FEI Centre for Advanced Imaging.
Commenting on her research placement, Georgia McClintock said, "I was so excited when I was awarded the Bursary. I'm really enjoyed the experience of working on the Alzheimer's project and I learned so much."
Dr George McKerr, Director of the FEI Advanced Imaging Centre said that they were delight to host the Step-Up students. "The Nuffield Bursary Scheme provided an excellent opportunity for students to gain some laboratory experience. Daniel and Sara embraced their research projects fully and worked diligently to deepen their scientific knowledge and skill base. I would be delighted to be involved in this type of project in the future."
The prospect of analysing tissues microscopically was initially daunting for Sara Butler. She said, "When I was told I was going to be completing a project using microscopes, I imagined the light microscopes we use in school. However, on the first day of my placement, I was given a tour of the facilities at the centre and shown microscopes that filled entire rooms and cost more than £1 million. I was initially really nervous about using them but I managed to capture all the images I need."
Head of Access and Educational Partnerships, Dr Damian O'Kane said, "This is a wonderful opportunity for Step-Up students to develop their research skills. Many of our pupils exhibit a keen interest and aptitude for laboratory based research and the Nuffield Bursaries provide an opportunity for them to be involved in pioneering work with leading research groups."
The five Step-Up pupils will present their findings at the annual Nuffield STEM Bursary Celebration event hosted by Sentinus in September 2011 where they will receive individual Gold BA CREST Awards.