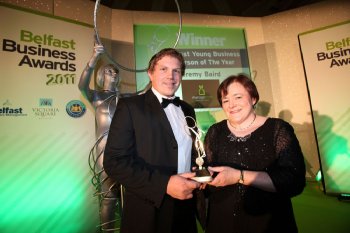 Ulster alumnus Jeremy Baird has been named Young Business Person of the Year at the 2011 Belfast Business Awards.
Jeremy, 27, is the Managing Director of Managing Director of Managemint, a company he set up while a student at Ulster.
He won the award at the first attempt, just weeks after he had opened his second office in Lurgan. With a head office in Stranmillis, Managemint manages a portfolio of high-end, exclusive dwellings for clients as diverse as HBO, members of the Ulster Rugby Squad and Harcourt Developments.
Because of the stiff competition, Jeremy was as surprised as anyone when his name was called out, particularly as the last couple of years have not been good for the property industry.
"I think the judges liked the fact that I was still only 27, yet I had achieved a lot. Also, I have a vision for the business and I provide training for my staff and see their personal development as essential to Managemint's future," he said.
"I also think business should be fun and that's why I seek out the type of clients that I have on the books – HBO, for example".
Jeremy lets and manages many of the properties in Belfast's Titanic Quarter.
"With the signature building due to complete in 2011 and the area starting to develop some "hustle and bustle", people are becoming more and more interested in rental accommodation as an alternative to the traditional mortgage-purchase dominated market", says Jeremy.
"I identified that trend early on and was able to capitalise on that. There are companies springing up all the time offering a letting and management service, but they won't be there in the long-term."
ENDS
CAPTION: Jeremy receives his award at the City Hall gala from Professor Marie McHugh, Dean of the Ulster Business School