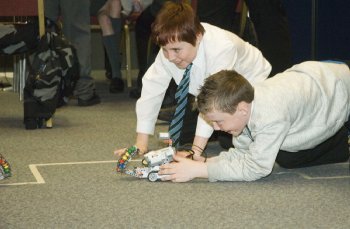 Pupils from Orangefield Primary School test their robot programming skills

Over 1,000 primary and secondary school pupils celebrated National Science and Engineering Week (NSEW) at events at the University of Ulster this week.

Hosted by the Department of Access and Educational Partnerships, more than 400 primary school pupils participated in a series of interactive sessions, designed to enthuse and encourage participation in science technology engineering and mathematics (STEM) subjects which even included writing a computer programme to control a robot.

National Science and Engineering Week is a UK wide annual celebration comprising science, engineering and technology activities for all ages. The theme for 2011 was 'Communication'.

Dr Damian O'Kane, Head of Access and Educational Partnerships at Ulster said: "National Science and Engineering Week provides a platform for pupils to actively engage in STEM subjects from an early age. Events like these play a key role in inspiring pupils to continue studying these subjects at school and to consider them as a future career option."

Over 600 Secondary school pupils attended an exhibition event, 'The World of Communication' where representatives, from organisations including Air Traffic Control, Northern Ireland Fire and Rescue Service and Armagh Planetarium, hosted exhibitions which illustrated the crucial role communication plays in everyday life.

Staff from the Faculty of Computing and Engineering demonstrated the communication systems behind the Smart Homes of the future and showed how electricity can be made from hydrogen.

Danielle Hoey, from Cliftonville Integrated Primary School, said: "My class had a brilliant time and really enjoyed their activities. It was a great opportunity for them to work in teams while learning new practical skills in science and engineering."

Gary Patterson, Watch Commander of Eatern Area HQ said: "The Northern Ireland Fire and Rescue Service were delighted to be a part of this unique event for secondary schools. It was both worthwhile and enjoyable, and we feel it was a great success."

The activities National Science and Engineering Week activities are supported by the University of Ulster's Access Agreement Fund.