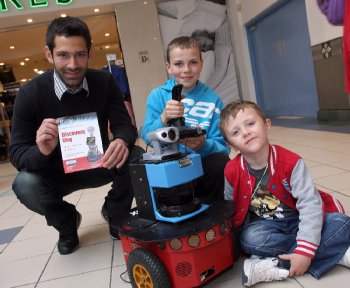 Research student Emre Ozbilge, with Eoin Doherty and his friend Caolan Cooper, working a mobile pioneer robot during a display by the University of Ulster's Intelligent Systems Research Centre (ISRC) at Foyleside shopping complex. It was a "taster" event for "Discovery Day" this Saturday (Sept 25) when the ISRC
ROBOTS, virtual worlds and brain-computer interface technology will be on show
when a world class research centre at the University of Ulster's Magee campus opens its doors to the public for a 'Discovery Day' on Saturday (Sept 25).
The 'science to the people' interactive event will enable people of all ages to see how the pioneering Intelligent Systems Research Centre (ISRC) is turning once-futuristic concepts into practical realities, with benefits in healthcare, education, industry and leisure.
The IRSC has around 100 researchers from about 15 countries. Their ground-breaking work in "intelligent systems" has earned the centre an international reputation for its research and innovation.
Peter Devine, ISRC business development manager says: "We want to lift the lid on a world class facility that is located here right in the heart of the city and let people know about the calibre of research going on here right on their door step. It is something worth shouting about, and the city should be proud of it.
" 'Discovery Day' is for everyone, from grandchildren to grandparents. For people with even just a passing interest in 'how things work', or anyone perhaps a bit curious about technology trends. It's for students, families and people who maybe never have had any particular reason to visit the campus."
'Foyle', the biggest of the ISRC's fleet of robots, will be on duty to welcome visitors to the eye-catching ultra modern ISRC building at the Strand Road entrance to the campus during the 2pm to 5pm Discovery Day.
ISRC staff will escort visitor groups around the building and introduce them to the work of the research teams.
Through hands-on interaction, talks and demonstrations, visitors will get a flavour of the research under way at the ISRC and see its practical effect, for instance in the use of a powered wheelchair and the world's most advanced robotic hand.
A Discovery Day 'taster' demonstration at Foyleside last Saturday was a huge success, with people of all ages keen to take up the challenge of interacting with mobile robots and use tools such as Second Life to voyage into virtual worlds.
Peter Devine said: "Judging by the feedback at Foyleside, we're looking forward to a busy day at the ISRC this Saturday. This is our first Discovery Day, and it's all about raising awareness about the world-leading work that is going on here."
For further information please visit the website: http://isrc.ulster.ac.uk/