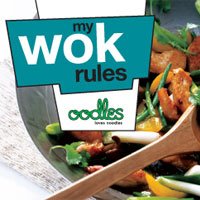 The new academic year may only just have started but students already are being offered the chance to get literally 'oodles' of hands-on experience of running a business.
University of Ulster, has teamed up with Belfast City Council, Belfast Metropolitan College and QUB to offer teams of would-be entrepreneurs the chance to run a busy restaurant for a day.
The 'My Wok Rules' competition will give students the chance to take on, for one day, all aspects of managing and operating the popular Oodles Love Noodles eaterie on the city's Botanic Avenue.
Entries for the competition close on Monday 25 October. Teams can be made up of up to six members, but all members must be students at Ulster, BMC or QUB and they must live in the Belfast City Council area.
All entrants will be invited to attend a series of 'bite size' seminars on running a business, and share the experiences of real life entrepreneurs. Following this, ten teams will then be invited to make their 'pitch' to a panel of experts, who then will choose four finalists.
These four teams will then each have the chance to run Oodles Loves Noodles for one day, taking responsibility for all aspects of the business, from ordering supplies to marketing to customer service. All profits from each day's trading will be donated to the Ulster Cancer Foundation, with the winning team deemed to be the one raising the most money. There are also fantastic prizes to be won by the entrants.
Brian Walsh, proprietor of Oodles Loves Noodles, said that he was delighted to be involved in the 'My Wok Rules' competition and was looking forward to helping the young entrepreneurs of the future placing their feet on the first rungs to a possible future career.
Elaine Lackermeier of Ulster's Office of Innovation at Ulster said: "This is a great opportunity for Ulster's students to compete to run a business for a day, there is no cooking involved so the competition is open to students from all disciplines! A panel of business gurus will judge the four teams as they take turns to run the restaurant for four Wednesdays in February next year."
Applications for 'My Wok Rules' can be made online, at
www.belfastcity.gov.uk/enterprise/wok.asp
'My Wok Rules' is funded by Belfast City Council and the European Regional Development Fund, under the European Sustainable Competitiveness Programme for Northern Ireland.