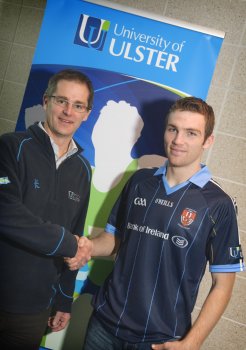 Many young GAA players dream of pulling on the county's jersey, but this weekend one University of Ulster student gets to live out a dream he never thought he would – representing his country.
Brendan Donaghy, who is studying a Master in Business Administration at Ulster's Jordanstown campus, is one of three players from Armagh joining up with the Ireland squad to face Australia in the International Rules Series at the Gaelic Grounds in Limerick on Saturday 23 October.
The international debutant is excited at the prospect of lining out in the Irish jersey and he is looking forward to standing shoulder to shoulder with county team mates Kieran McKeever and Armagh talisman and Ireland captain Steven McDonnell.
"I never even thought I would get the chance to wear the Armagh jersey – and now the chance to play for Ireland is just overwhelming. It hasn't really sunk in yet to be honest," he said.
"It will be good to have the county team-mates around me because, just as much as I know them well, they have played on this stage before and know what it is about and I can learn from that experience.
"It is an honour to represent my club and an honour to represent my county by playing for Ireland and of course over the two tests we will be looking to win the series."
And that knowledge will be vital if Ireland is to retain the Cormac McAnallen Trophy against the Australians. The International Rules Series, a blend of skills from Gaelic football and Australian Rules football, will be a test for the Clonmore Robert Emmet's GAA clubman and with big hitting tackles in the game he sees the benefit of those who have been there and done it.
Donaghy was quick to mention the names of Tadgh Kennelly and Tommy Walsh, both of whom now play down under for Sydney Swans and St Kilda FC respectively.
"Having the likes of those players in the team is important. They have the experience from playing Aussie Rules and can give us something extra. They have the experience in the tackle, which is something that is very important that Australian Rules brings to the (international) game."
The 23-year-old will also be joined on the squad by three times All-Ireland winning Tyrone star and University of Ulster graduate Sean Cavanagh, who is only the second sports star ever to be inducted into the Ulster Sports Academy's Hall of Fame.
Something that Cavanagh has, that Donaghy desires more than winning the international clash, is an All-Ireland winners medal and that is some unfinished business that he is not going to give up on.
"It is of course still my aspiration and the aspiration of the entire county to win the All-Ireland so that is something that I am still waiting for and still working for and what I want to achieve," he said.
Now in his final year of studying at the University of Ulster, Donaghy not only wants this year to be memorable on the field with the Jordanstown Gaelic Football Club but also memorable through academic achievement.
"This is my last chance to win the Sigerson with the University and it's something I would love to accomplish. In the run-up to the International Rules series the course directors and tutors have been very helpful in helping me arrange my studies and football to work side by side, and at the end of the day the hard work still needs to get done and I want to get my Masters."