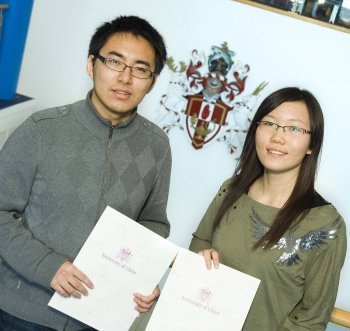 THE DEPARTMENT of Accounting has recognised excellence among its students by awarding certificates of High Achievement.
Among them were students from Dongbei University of Finance and Economics (DUFE), who joined the second year of the BSc (Hons) Accounting programme last year.
The University of Ulster has a long relationship with DUFE, which is located in the seaport city of Dalian in north-east China's Liaoning Province.
Every year more than 20 students travel to study in Northern Ireland, leaving their homes and families in what is, to them, a strange and foreign environment.
The high achieving students were the top 10% on the BSc (Hons) Accounting and BSc (Hons) Business Studies degree programmes based on their overall average in the last academic year.
Speaking at the awards ceremony in Jordanstown's Loughview Suite, Zhang Yupeng said: "It's a wonderful opportunity for us to study at home and overseas, our major is in Accounting so it helps studying in the UK.
"There is a well established link between our university in China and the University of Ulster and that's why we decided to come here."
His thoughts were echoed by fellow DUFE student CaoTing. "The Accounting courses and teaching staff at Ulster are great. It's such a different culture here that I would recommend other students in China to experience studying and living in Northern Ireland. I've enjoyed it so much I would like to find a job here after I graduate next year."
Head of Department Dr Gillian Armstrong congratulated all the students on their achievement: "Many of our students work incredibly hard throughout their degree and high performance at an early stage usually indicates success and good prospects on completion of their programme of study."
And she offered guidance to students about to enter the highly competitive world of employment. " My advice now is for students is to find new ways of differentiating themselves, to show an early signal that they are both top of the class academically and are well rounded students".
"In relation to placement and graduate employment, academic performance in year one and two is increasingly important, as employers for placement and the Accountancy Milk Round start recruitment in October, and selection is partly based on performance in years one and two."