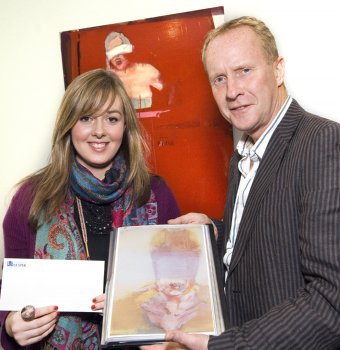 University of Ulster Fine Art graduate Katherine Rush is this year's winner of the John and Rachel Turner Award.

Katherine was presented with a cheque for £1,000 by Mr Turner's grand nephew Peter Loughins, at a special ceremony in the University's Belfast campus.

The late John Turner – a renowned painter and former lecturer at Ulster - established the fund in his own and his late wife's name in 2002. The award provides an annual bursary to a graduating artist who is outstanding in their field.
Katherine's work was selected for her 'understanding and mastery of working in the medium of painting and her exceptional gift in working with such clarity and simplicity with a subject matter of great complexity'.Professor Ian Montgomery, Dean of the Faculty of Art, Design and the Built Environment, said: "This award celebrates the work of John Turner as a central figure in a remarkable generation of Ulster painters as well as marking his contribution as a lecturer at the University of Ulster. Katherine is a very deserving winner and we hope that this award will help inspire her artistic practice and developing career."
Katherine, who is from Whitehead, has since taken up a post as Artist-in-Residence in Ulster's School of Art and Design.The fourteen new residencies form part of an initiative designed by the School to help talented graduates across a range of disciplines to develop their individual practice and nurture their move from study into a professional career.