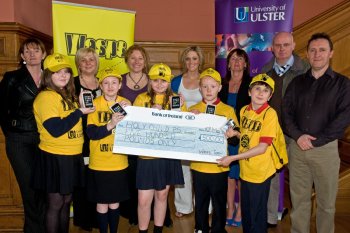 Front row: The winning team from Holy Child Primary School; Eleanor Rafferty, Caitlin Knox, Cara Duffy, Eoin Bradley and Aidan Gallagher
Back Row: Orla McDonnell, Mairin Nicell, Anne Hinds, Dr Caitriona Carr, Sylvia Alexander, Michael Cleary and Anthony McCourt

A team of pupils from Holy Child Primary School in Derry have scooped first prize in a novel University of Ulster outreach project.
The Widening Access Skills in Primary Schools (WASPS) initiative encourages young children to enhance their creative and business skills using technology.
Spearheaded by the School of Computing and Intelligent Systems at Magee and funded by the Access Agreement, the programme gives primary six and seven pupils in the North West a first taste of higher education by taking part in a series of hands-on practical workshops.
Launched in January 2010, the initiative involves a three year programme that will incorporate twelve schools to help demonstrate the possibilities of technology to pupils.
A total of 21 teams from Donemana Primary School, Holy Child Primary School, Fountain Primary School and St Colmcille's Primary School, Claudy, took part in first stage of the project, which involved pupils developing their own movies with guidance from computing experts at Magee.
First prize was awarded to Eoin Bradley, Cara Duffy, Aidan Gallagher, Caitlin Knox and Eleanor Rafferty from Holy Child Primary School, Creggan, for their movie on the topic of racism. They each received a iPod Touch at a special prize giving ceremony at Magee this week. Their school also received prize money of £500.
Dr Sandra Moffett, a lecturer in Computing Science who is leading the project, said: "This project has been a great success and these pupils have set a very high standard for forthcoming years. We are looking forward to working with four new schools next year as this initiative is rolled out across the North West."
Teacher Michael Cleary from Holy Child Primary School said: "I would like to say a massive thank you to the WASPS team at the University of Ulster who guided us all the way. The children, from start to finish, gave their heart and soul to the project. This is a great credit to them for their perseverance. I am so proud of all of them."
Three teams from Fountain Primary School, St Colmcille's Primary School, Claudy, and Donemana Primary School were also awarded runners-up prizes of an iPod Shuffle for their movies on the theme of anti-drinking, China and bullying respectively.