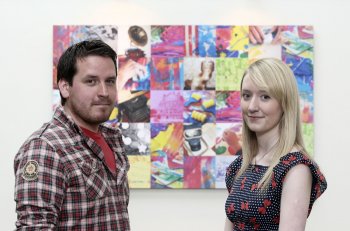 Conor McAteer and Sarah Crooks
Digital art work created by two University of Ulster students was unveiled at Clifton Nursing Home in Belfast today thanks to a unique partnership with charity Arts Care.
Second year printmaking students Conor McAteer and Sarah Crooks were selected by the Northern Ireland based arts and health charity to complete an eight-week placement at Clifton House Dementia Unit.
Conor and Sarah worked with Arts Care Artist-in-Residence, Clare McComish, to produce a series of commissioned digital prints which will form part of the Clifton House permanent art collection.
The images, which were produced in consultation with the residents of Clifton House, will hang in communal areas of the Dementia Unit and are designed to help promote well-being through creativity.
Janet Preston, Associate Lecturer in Fine and Applied Art, University of Ulster, said: "This is an excellent opportunity for our students to gain valuable experience in the health care environment. Not only does this project link in with the professional practice element of their degree course, it also gives them the chance to benefit from working with an experienced artist-in-residence.
Clare McComish, Artist-in-Residence, Arts Care, added: "We are delighted to work with the University of Ulster on this innovative project. Arts Care works very hard to promote the value of art in health related contexts and this is an excellent example of a collaborative partnership whereby students can gain hands-on experience working with older people, generating an uplifting and inspiring ambience through their work."
Lorna Anderson, Chair, Belfast Charitable Society, said: "This has been a most valuable experience for our residents and staff. Sensory stimulation through any form of art plays an important role in the care of Dementia patients. This project has provided a learning experience for everyone involved and has also enhanced the environment of those who live and work in Clifton Nursing Home."