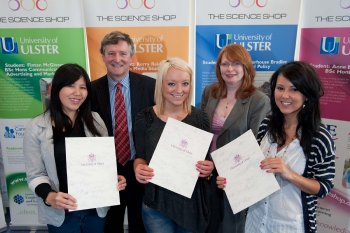 Students Kelly Lau, Joy Dreaning and Justine Cole with lecturer Philip Robertson and Una McMahon Beattie, Head of Department of Hospitality and Tourism Management
University of Ulster students who engaged in a unique Science Shop project have been recognised for their achievment at a special ceremony at the Coleraine campus.

The Ulster Science Shop is an innovative community outreach initiative which pairs skilled students with community groups in need of specific knowledge and expertise.
A team of second year Hospitality and Tourism Management students undertook a Science Shop challenge to help plan and manage a conference in partnership with the Coleraine and District Samaritans.
The students undertook the challenge as part of a Meetings, Incentives, Conventions and Exhibitions module they are studying as part of their degree course.
Lecturer Philip Robinson from Ulster's Department of Hospitality and Tourism Management said: "This Science Shop project provided a marvellous opportunity for students to develop their practical skills in ways that were highly relevant to current industrial practice. Students were asked to complete a comprehensive report detailing sound conference management policies, including initial assessment, actual implementation and post-conference control and monitoring mechanisms."
Una McMahon-Beattie, Head of Department of Hospitality and Tourism Management, awarded the successful students with certificates at a ceremony on the Coleraine campus. She said: "This was a super opportunity for our students to demonstrate their enterprise skills by participating in the professional organisation and management of this worthwhile conference. They have shown themselves to be excellent ambassadors for the Department and the University of Ulster."

Claire Mulrone, Science Shop Manager said that the project was a mutually beneficial partnership. She added: "These students embraced the challenge providing a wealth of knowledge and support for the Samaritans. The Samaritans were thrilled to have the practical support of the students as this was the first time they had hosted the regional conference. This partnership definitely embraced the ethos of the Science Shop, providing real solutions for communities."