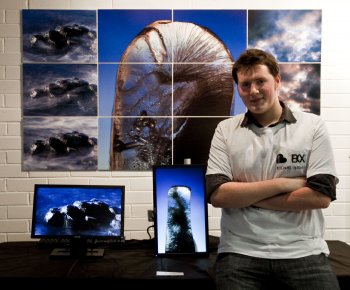 Michael Harvey, a third year Interactive Media student, with his photography exhibit at the School of Media, Film, and Journalism's End of Year Show.


The creative work of some of the University of Ulster's most exciting media talent is on display in the School of Media, Film and Journalism's End of Year Show at the Riverside Theatre, Coleraine campus.
The show, by the students in the BA Media Studies and Production and the BA Interactive Media Arts courses, features video, interactive, radio and photography.
Show director and Teaching Fellow in Interactive Media Adrian Hickey said:

"The work produced by this year's students has been fantastic. The projects are innovative and exciting and the work with the University's Science Shop has shown how the students have adapted their learning to create practical pieces easily accessible and useable by the public."
The week long display is open to the public until 26 May, during daytime and before shows in the theatre. It is free of charge.
One of its first visitors, Peter Johnston, Director, BBC Northern Ireland, said he was very impressed with the professional standard and originality of the work.
Professor Robert Hutchinson, Provost of the Coleraine campus, who opened the show before a packed audience, praised the students' creative talents and commended the several groups who worked with non-profit groups via the University's Science Shop.
Students in the School have worked closely throughout the year with regional media industries, including BBC Interactive on the coverage of the North West 200 motorcycle race and Milk Cup.

Three students' collaborated with charity Cause to produce online videos to help carers of people with mental health problems.
Another group worked with Belfast Visitor and Convention Bureau to produce photographs giving a fresh perspective of the capital for use in its marketing. They also created interactive guides to the city. Other projects tackled men's advertising, international fashion photography, surveillance, music and sectarianism.