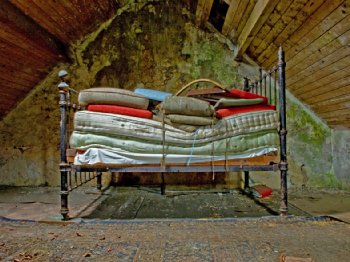 University of Ulster PhD student James Hughes winner image, Glenda's Bed.

A University of Ulster student won a place in the finals of the prestigious Association of Photographers Student Awards in London last week.

James Hughes from Ballymena, who is due to complete his PhD this year, was shortlisted in the 'Landscape Exteriors and Interiors' category out of 3700 entries in this year's AOP Student Awards competition.

His photograph, Glenda's Mattress, is currently being featured in a two-week exhibition at the AOP Gallery, alongside the other finalists, and in the Student Awards Book.

The image was taken from his own recently published photography book, Spectres of Place: Three Decades of Ulster Interiors.

James, who began his working life as an apprentice in Michelin, has over 20 years of photographic experience and during that time has exhibited both locally and internationally. He also lectures in photography.

He said: "It's always great to be a finalist in prestigious competitions and the gallery exposure in London is a great networking opportunity and I also welcome the positive feedback."

Unfortunately James couldn't be in London for the AOP grand final last week as he is running a photography workshop in Istanbul, Turkey.

His PhD supervisor at the University of Ulster, Professor Terence Wright, added: "James has produced some fascinating insights into Irish Visual Culture and has aimed to establish what is meant by the Irish 'sense of place'. His PhD constitutes a unique blend of accomplished photographic practice and theoretical investigation."

The AOP Student Awards were established in 1981, to recognise and highlight emerging photographic talent which existed in further education institutions across the UK.

Nearly 30 years later they have gone from strength to strength and are now regarded as one of the premiere photographic competitions for students around the UK attracting over 2,000 entries every year.

Speaking about the record-breaking number of entries this year, competition judge, Elke Bock, said: "The amount of interesting and intriguing images was mind blowing, so coming to the end of the judging process wasn't easy and it was almost sad not to have been able to nominate more of the promising new photographers."

To see more photographs by James Hughes visit his website at www.jameshughesphotography.com.