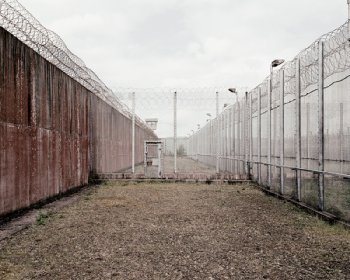 One of Donovan Wylie's Maze images that has been shortlisted for the Deutsche Börse Photography Prize
A University of Ulster lecturer has been nominated for the prestigious Deutsche Börse Photography Prize 2010.
Donovan Wylie, one of Ireland's leading photographers and an Associate Lecturer at the University of Ulster, is one of four nominees to be shortlisted for the annual award.
The accolade, which includes prize money of £30,000, recognises a living photographer of any nationality who has made the most significant contribution to photography in Europe.
Belfast-born Donovan has been shortlisted for his work depicting images of the Maze prison which he was given unlimited access to photograph after the release of the last prisoners.
Much of his work to date has stemmed primarily from the social and political landscape of Northern Ireland. His photos explore religious identity, history and the concept of territory. He began his career at the age of 16 and in 2008 became the youngest ever Magnum photographer at the age of 37.
He was appointed Associate Lecturer at the University of Ulster's School of Art and Design in January 2010.
Paul Seawright, Professor of Photography at Ulster, said: "This is the largest photographic prize in Europe and being nominated is an incredible achievement. Donovan recently joined our award winning team of photography staff researching new methods of representing conflict. He is currently working on an Imperial War Museum project documenting British and American military bases in Afghanistan and Iraq and has been working closely with photography students, helping develop their own international documentary projects."
An exhibition of work by all the finalists is currently on show at the Photographer's Gallery in London and runs until 18 April 2010. The winner of this year's Deutsche Börse Prize will be announced on 17 March 2010. The exhibition will then travel to the Deutsche Börse Group headquarters in Frankfurt, Germany.
For further information visit: www.photonet.org.uk .