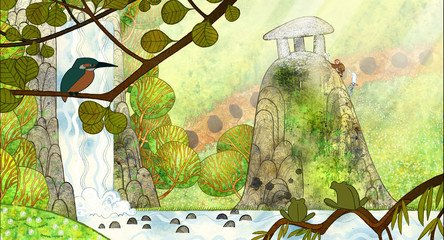 A scene from Oscar-nominated animated film The Secret of Kells
A University of Ulster graduate will rub shoulders with the elite of the movie world this weekend – his film has been nominated for an Oscar.
Paul Young, a former Art and Design student, is the producer of a feature length cartoon which is shortlisted in the Best Animated Film category.

The Secret of Kells
– which features the voices of Brendan Gleeson and Mick Lally – follows the adventures of a twelve year old boy in his quest to complete the legendary Book of Kells.
The film faces stiff competition from box office blockbusters like
Coraline
,
Fantastic Mr Fox
and
The Princess and the Frog
to win the coveted gong.
Paul is co-founder and CEO of Cartoon Saloon , a multi award-winning animation and illustration design studio based in Kilkenny. The company began as an informal partnership between a group of animators, including
Secret of Kells
Director Tomm Moore in 1999 and has gone from strength to strength.
As well as developing films, television commercials and children's books Paul has recently produced his first animated children's TV series entitled
Skunk Fu
! Which has won an Irish Film and Television Award and has been sold to broadcasters in over 120 countries worldwide.
Lecturer Mike Catto, from Ulster's School of Art and Design, said: "I taught Paul when he was a student on the BA Hons Combined Studies degree in the early nineties. He was always a very good illustrator and quickly carved out a successful career in animation after graduating from the University of Ulster. As a student he was quiet and hardworking with a great sense of humour and he developed excellent cartoon and caricature skills.
"It is always fantastic to see our students achieve success in their chosen careers and we congratulate Paul for his role in this Oscar nominated film. We wish him all the best for the Academy Awards ceremony this weekend."