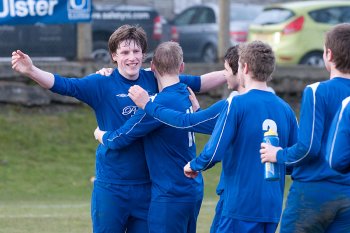 Magee's Aron Lemon celebrates after scoring the winning penalty against Trinity College Dublin
The University of Ulster have double reason to celebrate as the Jordanstown and Magee footballers are through to the semi-finals of the Collingwood Cup.
Jordanstown notched up a 1-0 win over rivals QUB, while competition hosts Magee needed extra-time and penalties before seeing off Trinity College Dublin 3-2 in the shootout.
It finished 2-2 after 90 minutes, with Darren Higgenbottom and Brendan Doherty grabbing the Magee team's goals, and the sides couldn't be separated after extra periods.
Mark Kelly was the Jordanstown hero, as he grabbed the winning goal six minutes from time. A long throw into the box from Lee Rushe was flicked on by Kelly and the looping header evaded the grasp of Peter Mallett in the QUB goal.
Jordanstown now face reigning champions University College Dublin after they saw off University College Cork 8-7 in a penalty shootout. The Magee campus face a tough semi-final against NUI Galway who had the edge in a 4-3 thriller against University of Limerick.
An all Ulster final is a mouth-watering prospect, but University of Ulster Magee's manager Martin McCann is just taking one game at a time.
He said: "We can't look that far ahead. We have to think about the semi-final against Galway and concentrate on that. But we had a great result today and the players were fantastic. They have hearts like lions and played with a great spirit. They just kept going. To be 1-0 up and then 2-1 down and to keep playing the way we did and get the equaliser with about 10 minutes left showed how hard they worked.
"I think that we deserved it and we dug and dug away and got our just rewards."
The performance was all the more impressive considering injuries forced four of McCann's star players to miss the game. Gerard McClintock and Hugh Carlin broke bones in their legs and other injuries have kept Austin Friel and Mark Nicell on the sidelines.
NUI Galway have scored eight goals in their last two games and will be a tough prospect for Magee, while Jordanstown will also be up against it. UCD are the trophy holders and are also fresh from winning the all-Ireland Colleges and Universities Football League just a few weeks ago.

Collingwood Cup Quarter-final results:
University College Cork 1-1 University College Dublin (UCD win 8-7 on penalties)
University of Ulster Jordanstown 1-0 Queen's University Belfast
NUI Galway 4-3 University of Limerick
University of Ulster Magee 2-2 Trinity College Dublin (Magee win 3-2 on penalites)

Collingwood Cup Semi-final fixtures: (Wednesday 3 March, all kick off 2:30pm)
University of Ulster Jordanstown v University College Dublin (at Swilly Stadium)
University of Ulster Magee v NUI Galway (at Lisnagelvin)

Spillane Cup results:
Mary Immaculate 0-0 Maynooth (Maynooth win 6-5 on penalties)
Dublin City University 3 - 1 University of Ulster Coleraine

Spillane Cup fixture: (Wednesday 3 March, 11am kick off)
Maynooth v Royal College of Surgeons Ireland
Thursday 4 March 11am - Spillane Cup final: DCU v Maynooth/RCSI


Farquhar Cup semi-final fixtures: (Wednesday 3 March all kick-off 11am)
University College Cork v QUB
University of Limerick v Trinity College Dublin


Duggan Cup final: (Wednesday 3 March kick off 2:30pm)
Mary Immaculate v University of Ulster Coleraine