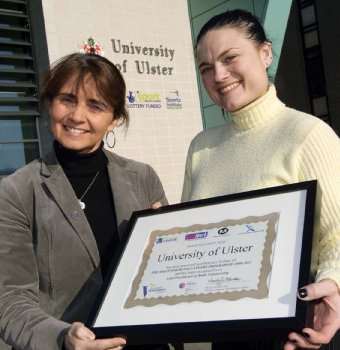 Ulster Sports Outreach Director Dr Deirdre Brennan, with Lyne Greenwood from the Volunteer Development Agency
The University of Ulster's Sports Outreach Unit based in the School of Sports Studies has been awarded delivery partner status with the Volunteer Development Agency.
This partnership recognition is another exciting development for the ever expanding Sports Outreach Unit and will see the University act as delivery partner for the Agency's GoldMark volunteer programme.
GoldMark is a dynamic volunteer initiative designed to promote and recognise sports volunteering among young people aged between 16 to 24. It builds on the successes of Millennium Volunteers and both programmes are funded by the Department of Education in Northern Ireland.
Richard Gormley, Ulster's Sports Outreach Unit Manager, said: "Sports Outreach will continue to provide innovative, flexible voluntary opportunities for our students in sport and physical activity. The emphasis and motivation for becoming involved with GoldMark was to reward those students who volunteer their time over a three to four year period and provide an opportunity to earn and receive a nationally recognised certificate of achievement."
The Sports Outreach Unit that currently has over 60 volunteers delivering sport and physical activity programmes in disadvantaged communities and the Volunteer Development Agency will now work with Ulster in developing best practice for the involvement of volunteers, particularly in relation to youth volunteering.
Dr Deirdre Brennan, Director of Sports Outreach, said: "We are very committed to providing quality learning opportunities in sport for our students in order to enhance their professional skill development and add value to their academic qualifications. Volunteering is the lifeblood of sport and it is crucially important that we both encourage and reward sports volunteering."One of the goals of GoldMark is to ensure sport is included as a widely recognised voluntary activity. A main objective of the Sports Outreach Unit is to widening access to the University of Ulster for children and young people particularly from areas of greatest disadvantage.
The volunteers recruited to this programme contribute in a way which is beneficial to all parties. Students signing up to the project can work towards earning three separate certificates for 50 hours, 100 hours and 200 hours voluntary service.
Sixty-six students are already well on their way to earning the 50 hour certificate through their delivery of the Sports Outreach's Sport for LIFE programme which is currently being rolled out in 50 primary schools.
Wendy Osborne, Director of the Volunteer Development Agency, said: "We are delighted the University of Ulster is now a GoldMark Delivery Partner and are excited about the innovative and challenging volunteer opportunities the University of Ulster GoldMark participants will embark on.
"Millennium Volunteers has been running successfully in Northern Ireland for 10 years now and GoldMark builds on this success while including the specific inspiration of sport and 2012. GoldMark not only enables participants to develop their learning and skills but also provides them with the recognition they deserve."