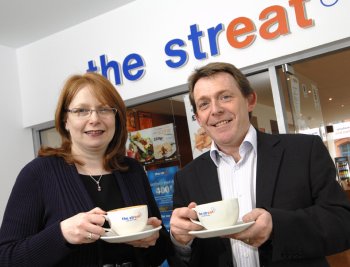 Visiting Professor Michael McQuillan and Dr Una McMahon-Beattie, Head of Department of Hospitality and Tourism Management, pictured at the Belfast campus of the University of Ulster
Hospitality entrepreneur Michael McQuillan, who set up the The Streat Café chain, has been appointed as a Visiting Professor at the University of Ulster.

The impressive success of his café operation and his advocacy of skills training have made him a major name in Northern Ireland's the hospitality sector.
His appointment to the Ulster Business School follows the very significant contribution that he has made to its hospitality and management programmes in recent years.
Professor McQuillan said: "I am honoured by the appointment. I believe that the School is a crucial cornerstone of the hospitality industry in Northern Ireland and I look forward to working with the School's team and the students in my role in the coming years."
He is currently chairman of the representative forum People 1st, the Sector Skills Council for the hospitality, leisure, travel & tourism industries.
The Streat was the first multi site café to be awarded a National Training Award in the UK.
Professor Marie McHugh, Dean of the Ulster Business School, said the School would benefit greatly from the appointment of such a highly respected figure from the hospitality sector.
"Michael is an alumnus of the University of Ulster's Department of Hospitality and Tourism Management and over the period of his career he has become one of the leading figures in Northern Ireland's hospitality sector," Professor McHugh said.
"He has always been an ardent supporter of his alma mater, contributing to the development of hospitality management programmes within the Ulster Business School and fostering links between the School and the hospitality sector. A true entrepreneur, he is a wonderful role model for our students."
Michael McQuillan and his wife Nikki founded The Streat in Belfast in 1999 and have expanded it steadily, building on the brand's reputation on quality, customer service and training.
The first Streat coffee and sandwich store was on the Dublin Road in Belfast. Now there are more than 30 outlets across Ireland and Scotland. The company reached a new milestone last month when it was became part of the Henderson Group of Companies, which owns the Spar and Vivo franchises in Northern Ireland and has a turnover in excess of £500m and employs over 2000 people.