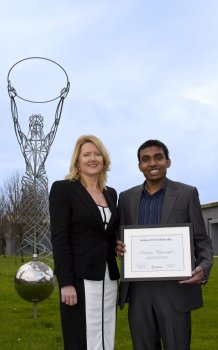 Angela Canavan, Chief Operations Officer at Asidua with winning University of Ulster student Dinuka Wijesinghe
A University of Ulster computing student has won a place on the prestigious Asidua Scholarship Programme.
Dinuka Wijesinghe, a first year student at Ulster's Jordanstown campus, secured a bursary of £1,000, an industrial placement and the offer of a permanent position upon graduation with the leading IT services company.
The Scholarship Programme, which was launched in 2008 in partnership with the University of Ulster and Queen's University, aims to attract fresh talent into the growing Northern Ireland IT sector.
Angela Canavan, Chief Operations Officer at Asidua, said: "We are delighted to welcome Dinuka to the expanding Scholarship Programme. Despite the downturn in the economy, Asidua is proud to continue its investment in the future of Northern Ireland with the extension of this initiative. This Scholarship gives students a helping hand, both professionally and financially, throughout their university career and provides them with the best possible chance of achieving their full potential."
Dr Paul Hanna, Head of the School of Computing and Mathematics at Ulster, added: "The Asidua Scholarship Programme allows students to place their academic study in an industrial context, allowing them to have some of the benefits of their third year placement from the outset of their studies."
Winning student Dinuka Wijesinghe said: "I am really proud to be one of the recipients of the Asidua Scholarship. This is a wonderful opportunity to gain knowledge in a working environment. It is a fantastic opportunity and I am looking forward to beginning my placement this summer."