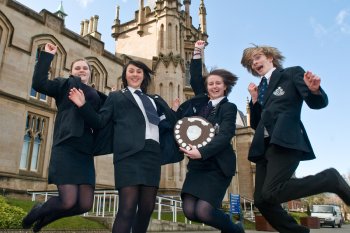 Winners of the NI French Debating Competition Laura Ross, Jade Turner, Emma McMullan and Daniel Simpson from Limavady Grammar School
A talented team of young linguists from Limavady Grammar School has won the Northern Ireland French Debating Competition hosted at the University of Ulster's Magee campus.
Laura Ross, Jade Turner, Emma McMullan and Daniel Simpson fought off stiff competition to reach the final where they faced runners-up Methodist College, Belfast.
Sponsored by the Alliance Française de Dublin and the Cercle Français de Belfast, the debate centred on the topic: 'Au lieu d'ouvrir de nouvelles perspectives sur le monde, le tourisme d'aujourd'hui ne fait que nous conforter dans nos idées reçues' – Instead of opening up new perspectives on the world, tourism today only reinforces our prejudices.
Event organiser, Dr Jane McKee, a senior lecturer in Ulster's School of Languages and Literature, said that the levels of debate in the French language have been excellent throughout the competition.
"Learning another language is a very useful life skill and these young students have certainly showed a high level of competence in French, which will give them considerable advantages in relation to employment and mobility in an increasingly global economic environment. The experience of taking part in this exciting and demanding event also helps to develop their confidence and skill in public speaking.
She added: "During the competition, each school was represented by a team of four speakers. As well as giving a three minute speech – in French– defending the position of his or her team, each speaker had to be able to refute the arguments of the opposing team and heckle its speakers. It can be quite a challenge for a non-native French speaker and the sixth-formers rose to the challenge with great skill and enthusiasm."
The competition underlines the University of Ulster's commitment to rolling out language provision at Magee.
Dr McKee said: "This year marks the introduction of a range of new language courses available at Magee from September 2010. Combinations of French, Spanish and Irish with other subjects such as International Politics or Drama will give students increased opportunities to study languages at university level."