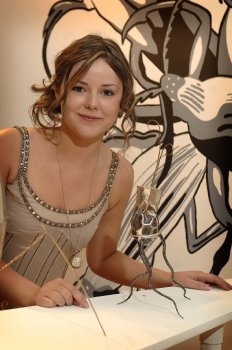 University of Ulster student Aoife White, from Buncrana, exhibiting her work at the annual End of Year Show in Belfast. Aoife's work has been selected as the trophy for the First Trust Bank Distinguished Graduate Award.
The University of Ulster's top young artists have been recognised at a special award ceremony to celebrate the opening of the annual End of Year Show.
Seventeen students received awards for their outstanding achievement and exceptional work produced in their final year at the Belfast campus.
The ceremony marks the official opening of the End of Year Show which gives over 300 art, design and architecture students at the campus a platform to showcase their work.
The Show has become an important diary date for art connoisseurs and collectors in Northern Ireland and further afield, attracted by the consistently high standard of work produced by the graduating students.
Student work spanning disciplines including Architecture, Fine and Applied Arts, Textiles and Fashion Design, and Visual Communication at both undergraduate and postgraduate levels is on display until Saturday 19 June.
Professor Ian Montgomery, Dean of the Faculty of Art and Design, said: "This superb exhibition is not only a celebration of the achievements of Ulster's students but is also an opportunity to showcase the wealth of art and design talent at the Belfast campus. The Show offers an unrivalled opportunity for collectors, galleries, designers, architectural practices and advertising agencies to gauge the direction of contemporary thought and innovation in the creative arts."
The Show forms part of the Ulster Festival of Art and Design, a unique festival of talks, workshops, exhibitions and screenings, sponsored by Carson McDowell. It will be open to the public from Tuesday 8 June until Saturday 19 June 2010.
For further information on the Ulster Festival of Art and Design or to download a Festival programme visit: www.ulsterfestival.com.