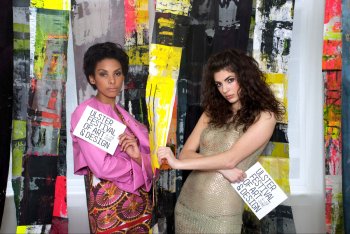 Models Maryam Ahmed and Gemma McCorry wearing designs by Ulster fashion students Mary McManus and Karen Toner
Northern Ireland's brightest young fashion designers will showcase an exciting range of new collections at the University of Ulster's gala fashion show this week.
Marking the opening of the Ulster Festival of Design, the show, sponsored by Victoria Square, will feature work from final year students poised for successful careers in the competitive fashion industry.
The foyer of Ulster's refurbished Belfast campus will be transformed into an elevated catwalk as the Style Academy models flaunt unique creations by Textile and Fashion students.
The evening promises to deliver a colourful extravaganza of fabrics and designs displaying a range of expertise including inspired knitwear, tactile prints and embossed textiles.
Industry leaders will also be eagerly awaiting the esteemed event, which gives experts in the trade a first glimpse of the best up and coming young talent.
Janet Coulter, Senior Lecturer in Fashion Design, said: "This show provides a platform for the vast wealth of creative talent we have at here the University of Ulster. These collections, which are the result of a lot of hard work and dedication, show that with determination and knowledge, anything is possible. Our final year designers are set to impress with their stylish sophistication and collections from talented second year students will also be revealed.
Stephen King, Lecturer in Fashion, added: "This year's graduates have excelled themselves in terms of innovation, design and commerciality and have made excellent use of technology at the university, such as laser cutting and digital printing. Their work is worthy of its place on the opening night of the Ulster Festival of Art and Design. This is an event not to be missed, with an opportunity to purchase one-off, designer creations."
The fashion show marks the launch of the Ulster Festival of Art and Design, supported by Carson McDowell, which will bring some of the world's top commercial designers and leading artists to Northern Ireland over the next few weeks.
The show will take place at 7pm on Friday 4 June at the University of Ulster's Belfast campus, York Street.
For further information and tickets contact Kelly Gordon, Cultural Development Office on; 028 90267285 or email: k.gordon@ulster.ac.uk. For further details on the Ulster Festival of Art and Design visit: www.ulsterfestival.com.