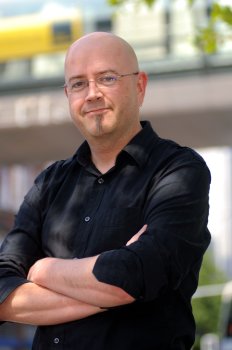 Professor Greg Maguire
One of the world's top animators is bringing the bright lights of Hollywood to Belfast this week as he takes up a new post at the University of Ulster.
Greg Maguire, whose work is featured in James Cameron's Oscar winning Avatar and box office smash, Terminator Salvation, will be revealing the secrets behind his success as part of the Ulster Festival of Art and Design.
The newly appointed Professor of Visual Communication will present his first public lecture since taking up his new role at Ulster on Tuesday 8 June at 8pm at the Belfast campus. Entitled Avatar: the Insight the talk will provide a fascinating firsthand exploration of the character creation processes for film, television and games.
It is a return to home soil for the County Down man who graduated from the University's Belfast campus with a BA Hons in Design in 1988.
Greg began his career in 1989 at Don Bluth Animation Studios in Dublin, integrating computer graphics and traditionally animated features in Thumbelina, Rock-a-Doodle, and Troll in Central Park. A Peter Gabriel project soon took him to Colossal Pictures in San Francisco where he completed work for MTV, Intel, Sun, Coca-Cola, and James and the Giant Peach. A call from Walt Disney Feature Animation then took him to Los Angeles for four years as Technical Animation Supervisor and Character Animator on their first computer generated feature, Dinosaur.
Greg returned to San Francisco in 2000 to take up a position as Creature Supervisor on Visual Effects for Oscar nominated, Harry Potter and the Prisoner of Azkaban at George Lucas's world leading Industrial Light and Magic. In 2004 he moved to Skywalker Ranch to became Research and Development Supervisor for Lucasfilm Animation on the Star Wars: The Clone Wars animated feature film and television series.
In 2006 he founded his own animation studio, Zoogloo, whose first project Happy Feet went on to win an Oscar for best animated feature in 2007. Zoogloo's credits also include Thundercats for Digital Domain, Spiderman 3 for Sony, Rockband 2 for Harmonix, Where The Wild Things Are for Warner Bros. and the Emmy Award winning Abby's Flying Fairy School for Sesame Street.
The animation industry veteran's career comes full circle this week as he makes a return to his alma mater to take up the new post as Professor of Visual Communication in the School of Art and Design.
He said: "Belfast is perfectly positioned to be a major player in the global creative industry. There is a wonderful ambition here, backed with a creative talent that enables Northern Ireland to punch above it's weight in this fledgling digital economy. The University of Ulster's strategic outlook for regional development, aligned with that of the industry has helped to create the environment for this transformation. I am honoured and excited to be part of this and the challenges ahead."
Professor Ian Montgomery, Dean of the Faculty of Art, Design and the Built Environment at Ulster added: "The appointment of Greg Maguire to a Professorship in the School of Art and Design marks a new phase in the development of programmes on the Belfast campus. Greg's international standing as a pioneer in the area of Computer Generated Imaging will further extend the work of the School and we very much look forward to developing this exciting area as part of our extensive portfolio of creative programmes and research activities."
Professor Greg Maguire's talk entitled Avatar: the Insight, will take place at 8pm on Tuesday 8 June at the University of Ulster's Belfast campus. For further information and tickets contact Kelly Gordon, Cultural Development Office on; 028 90267285 or email: k.gordon@ulster.ac.uk.
For further details on the Ulster Festival of Art and Design, sponsored by Carson McDowell, visit: www.ulsterfestival.com.