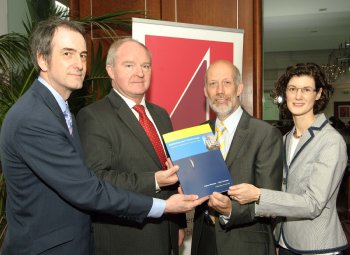 (L-R) Brian Thompson, University of Liverpool, Lord Chief Justice Sir Declan Morgan, Justice Minister David Ford and University of Ulster lecturer Grainne McKeever at the handover of the report.
A report calling for the reform of Northern Ireland's tribunal system - co-authored by a University of Ulster law lecturer - was launched today.
Grainne McKeever's research, which highlights the need for change, is timely following the devolution of justice powers to the Northern Ireland Assembly and recent revelations that less than one per cent of people taking a case had won after a Fair Employment hearing.
The report entitled,
'Redressing Users' Disadvantage: Proposals for Tribunal Reform in Northern Ireland'
was co-authored by Brian Thompson from the University of Liverpool's School of Law, commissioned by the Law Centre (NI) and funded by the Nuffield Foundation.
The research entailed interviews with users of social security appeal tribunals, special educational needs tribunals and industrial/fair employment tribunals, tribunal chairs, policy makers and tribunal judiciary.
Gráinne McKeever, a senior lecturer in Ulster's School of Law, said: "A number of themes emerged from the interviews with users and others involved in the tribunal system. These included that people appealing didn't know what to expect from tribunals prior to the hearing, that good quality specialist advice and representation is very beneficial, the importance of tribunals being independent, and strong support for increased oversight and accountability to maintain standards across tribunals. This feedback has helped to inform the agenda for tribunal reform for Northern Ireland.
"Tribunal users face successive challenges in taking a case to a tribunal, and this research highlights the need to understand the user journey as an end-to-end process, to avoid the need for cases to come to tribunal and to better assist those who do end up having a tribunal hearing."
Brian Thompson, co-author, pointed out that "substantive reform of tribunals has taken place in Britain and we need a similar process that meets the needs of people in Northern Ireland.
"The research places users at the centre of reform by recommending that users have access to good quality advice and representation, that the independent role of tribunals is strengthened and that the oversight and accountability of tribunals' work is enhanced.
"The Hillsborough Agreement set out that tribunal reform was part of the programme for the new Department of Justice and our research should make a valuable contribution to carrying that work forward."
The report was launched at a conference,
'Advancing Tribunal Reform – The Way Forward',
in Inns of Court, Bar Library, Chichester Street, Belfast.
Speakers included Sir Declan Morgan, the Lord Chief Justice, David Ford, the Minister for Justice, Richard Thomas, Chair of the Administrative Justice and Tribunals Council and Professor Dame Hazel Genn.
The conference has been organised by the University of Ulster and the Law Centre (NI) in association with the President of the Appeal Tribunal.
Director of Law Centre (NI), Les Allamby, said: "More people go to tribunals than to courts to resolve legal problems. Tribunals decide important issues including whether you can be paid a social security benefit, have your job back, be granted asylum, or be released from a mental health institution, yet it remains an unheralded part of the justice system. This research, the first of its kind in Northern Ireland aims to put the work of tribunals on the map."