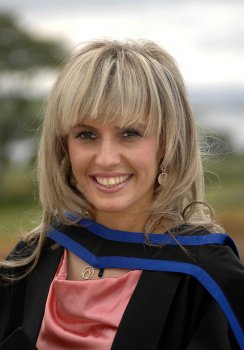 Julie Ann Trainor
Many journalists wait a lifetime before getting a weekly column. Not Julie Ann Trainor who graduates with a BA Hons Journalism at the Coleraine campus this afternoon. An award winning student, at 23 she has a regular spot in her local weekly, the Newry Democrat, and is pinning her hopes on a full-time career in media.
Julie Ann puts her lecture room theory into practice by contributing news, reviews, features and her 'Killeavy Gossip Column' to the paper. "It is a weekly column based on the events that take place in the Killeavy area, although I add some light- hearted gossip along with it, making it all the more exciting to read," she said.
Julie Ann has plenty of praise for the Journalism course. "The lecturers were great. I loved the course, especially final year when it all became so much more real and we were doing practical course work. I made lots of good friends during my time at Coleraine too."
She gained highest overall marks in her broadcast journalism module and was awarded the Brum Henderson Memorial Award for the Most Promising Student of the Year. It is named after the founder of UTV. Her course work included a television interview with UTV Channel Development Manager Robert Lamrock, which she produced and conducted based on UTV's 50th anniversary.
Julie Ann got a taste for media while at primary school when she won a story writing competition throughout the Newry and Mourne area, the prize being a trip to UTV in Belfast.
"It would be a great to maybe work with UTV in the future but I still have a lot to learn, so for now I am concentrating on gaining as much experience as I can with the Newry Democrat. I'm keen to explore the different opportunities the media world has to offer, particularly television presenting and radio. So, who knows what lies in store?"