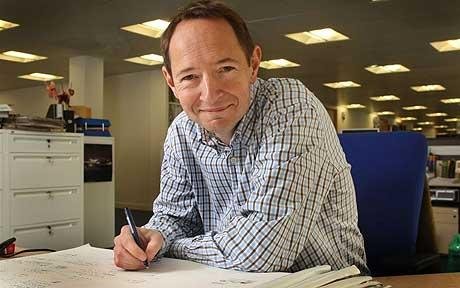 Daily Telegraph cartoonist Matt Pritchett
Cartoonist Matt Pritchett will reveal how he has developed his distinctive style adored by thousands of readers of the Daily Telegraph every day at the University of Ulster this week.
His talk is part of the Ulster Festival of Art and Design, sponsored by Carson McDowell, which runs at the University of Ulster's Belfast campus until Saturday 19 June.
After studying graphics at St Martin's School of Art Matt was working as a waiter in a pizza restaurant when he discovered that magazines would pay £75 a time for cartoons. It was not long until he sold his first drawing to the New Statesman and subsequently to Punch and The Spectator.
Matthew Pritchett has since become a household name after taking up the role of pocket cartoonist on the Daily Telegraph newspaper in 1988. His witty political cartoons and satirical sketches are acutely observed and he is four-times winner of the Cartoon Art Trust annual prize.
In 2001 he was awarded the MBE, by which time he had drawn over 2,500 pocket cartoons for the Daily Telegraph.
Matt will talk about his life as a cartoonist, how he creates his material and how he has developed his distinctive style.
The lecture will take place at 6pm in the University of Ulster's Belfast campus on Thursday 17 June 2010. For further information and tickets contact Kelly Gordon, Cultural Development Office on: 028 90267285 or email: k.gordon@ulster.ac.uk.
For further Festival details visit: www.ulsterfestival.com.