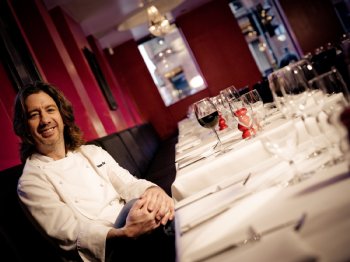 Professor Michael Deane

MICHELIN-STARRED chef Michael Deane is to become a Visiting Professor at the University of Ulster.

The culinary maestro and celebrated restaurateur , who has held a Michelin star for 13 years in a row, will share his talents with the next generation of leaders in the hospitality sector through a series of lectures and masterclasses to students in the Department of Hospitality and Tourism Management at the University of Ulster's Belfast campus

Department Director Dr Una McMahon-Beattie said: "We are delighted that Michael will be joining us to bring his international-level expertise and business insights to our programmes.

"His renowned culinary arts expertise is just one part of an extensive skill portfolio: equally important for our students will be his experience and strong track record of business achievement and brand development in the hospitality sector, and his entrepreneurial savoir-faire."

Michael Deane said: "I am truly honored, delighted and excited at the prospect of working with staff and students at the University of Ulster. I have always been passionate about nurturing young talent and this gives me the perfect opportunity to share the knowledge and skills that I have gained over the years both as a chef and a business man."

The University of Ulster's Department of Hospitality and Tourism provides top flight learning opportunities which are student centred and client focussed by providing a vibrant learning environment, offering courses which are creative and innovative, by strengthening links with industry, through the student placement programme, in research and development, industry lectures and participation in various conferences nationally and internationally.

The Belfast campus is also home to the award-winning Academy Restaurant, where students hone the culinary and hospitality management skills they need to build successful careers in the industry.