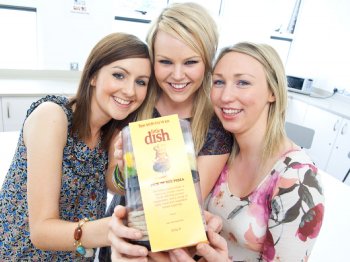 Caption: BSc Hons Consumer Studies Students Ciara Rooney, Anne Marie McGill and Caroline McGirr with their Pick 'n' Mix Pizza concept.
STUDENTS on the the Food Innovation module of the BSc Hons Consumer Studies degree at the University's Coleraine campus have carried out a product pitch to a panel of professionals from the food retail industry.
At the start of the module, students formed their own company, devised the company name as well as creating their brand/core values.
Company names included: The Pick 'n' Mix Pizza Company, Kiddy Kool, Self Indulgence, My Own Bickie and De-lish.
Course Director Dr Desmond Hill, said "The rationale for the module was for the students to develop an innovative concept, whilst at the same time enhancing and building upon their entrepreneurial skills based on previous modules studied within the course and their work placement experience."
The product concepts were judged by an expert panel including Dr. Desmond Hill, Gráinne Allen (Product Development Coach and Mentor for Sainsbury's), Sophie Morrison (Head of Consumer Sensory Work, Sainsbury's), and John Stapleton, a founder member of the Covent Garden Food Company and CEO of the Little Dish Company.
The Pick 'n' Mix Pizza Company formed by students Anne Marie McGill, Caroline McGirr and Ciara Rooney were the standout for the judges.
John Stapleton said: "For me, The Pick 'n' Mix Pizza Company stood out for displaying a level of professionalism that I did not really expect to find in a group of students. The company members had covered all the fundamentals and their idea was very well thought out".
According to student Anne Marie McGill, "The product was targeted at families with young children emphasising healthy eating and was a fun product which children could make with their parents".
Fellow student Caroline McGirr said: "T'he company's marketing research identified that parents key priorities at meal time for their children were; convenience, healthy and natural ingredients as well as re-establishing home cooking".
The product comprised six healthier mini pizza bases, bar-b-que sauce, tomato sauce (both with hidden vegetables) and six different toppings within individualised compartments and a bag of grated cheese. Therefore, "each child could personalise their pizza to their own taste" said third team member Ciara Rooney.
Another company which impressed the panel was Kiddy Kool, whose innovative product concept was a compartmentalised lunch box based on the Eat Well Plate. It was designed in order that children could eat foods in the correct proportion and in line with Government dietary guidelines. Their strap line was 'good food with attitude' with the character 'foodles' which encourages children to make more healthy choices for their lunch. The company members also produced a book based on the Eat Well Plate with recipes for each of the main food groups ranging from quick and easy to adventurous. The lunch box also included a bottle to which juice, water or smoothies could be added. Stickers were also included so that children could personalise their lunch box.
In addition, the company members devised a website which complimented the book in that recipes could be updated, children could join the 'foodles' club as well as accessing information from Government organisations. Furthermore, they suggested that for the product concept to be successful they would need to form strategic alliances with major television channel websites such as CBBC so that children could play online games.
Commenting on the quality of the student projects, Gráinne said, "the standard of presentations was really excellent.
"The level the students have reached in their product concepts was beyond my expectations. I was amazed by the pace of work the students set in developing their ideas and bringing them to such an advanced stage - virtually ready to market in 8 to 12 weeks. In industry, that process could take 18 months. If the students keep to this standard they will never be left behind by emerging trends in the marketplace, they could even become trendsetters in the future".