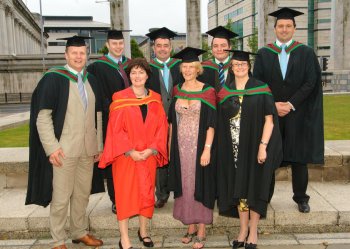 Dr Gillian Armstrong and graduates, MSc in Agri-food Business Development
The University of Ulster's MSc in Agri-food Business Development is helping new and established company managers to grow their business during challenging economic times.
The Masters students have been studying part time for two years while also working in this competitive business sector. But following today's graduation they will be returning to their jobs full of practical innovative ideas on how to take their businesses forward.
Alistair Toal, from Scarva, Managing Director of household name, Graham's Bakery in Dromore, says the course has helped him to rejuvenate the local firm that was set up in 1955.
"The Agri-food course turned out to be much more than just an academic course I've been able to apply many aspects of the course to my work," he said.
"Even meeting the people on the course was interesting, everyone was from different backgrounds, from people starting their own business to food producers to multiples retailers. The single best thing about the course was the breadth of learning across the modules so we gained knowledge in a wide variety of areas as opposed to specialising in just one and obviously as a manger or business owner you need to know a lot about every aspect of your business.
"The most important element of the course was that it made you focus on what was important in business and that is the consumer. It's easy to get caught up in food trends and production so it was a case of re-focusing and understanding where your priorities lie. The Masters provided a platform to make the right decisions. If you want a complete picture and rounded knowledge about business this is the course to sign-up to."
Dr Gillian Armstrong, Senior Lecturer in Marketing in the Department of Marketing, Entrepreneurship and Strategy, explained why this MSc is such a valuable course. "The value of the educational experience and the opportunity to partner and connect with other parts of the supply chain has led to an overall feeling of optimism and in some cases, business success," she said.
"The MSc programme has been designed specifically for the agri-food sector and commences again in September 2010, through a 'business friendly delivery' format. I feel the MSc is more than an academic programme and is a very important initiative for the agri-food industry in Northern Ireland. This is the second year of graduates and each year they have formed a very effective network across the supply chain, which is helping to strengthen the industry's sustainability and competitiveness."